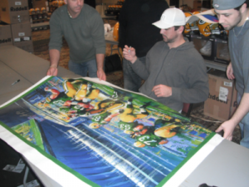 Malcolm Farley has been part of the Super Bowl scene for more than two decades
Indianapolis, IN (PRWEB) February 01, 2012
Malcolm Farley, considered "America's Premiere Sports Artist" has been a part of the Super Bowl scene for more than two decades. His paintings of the games, along with the ensuing release of a limited edition canvas series signed by the winning quarterback, are annual sellouts. He was commissioned to create a commemorative series for Pepsi, highlighting Super Bowl games from the past, that adorned ONE BILLION Pepsi cans in what is considered the most successful soft drink promotion in history. Dan Marino commissioned Malcolm to be at his side to capture his Hall of Fame acceptance speech. He has been commissioned to paint live on the NFL Network, as well as the chosen artist for the infamous Quarterbacks of the Century tour with Joe Montana, Dan Marino, John Elway, and the late Johnny Unitas. He has also been on hand to entertain corporate America, The NFL Alumni Association, as well as crowds of people at various venues in Super Bowl hosting cities through out the decade. A former football player himself, his imagery is always highly respected by the game's icons, with whom he has developed a rapport during the many signing sessions that have taken place over the years.
The Malcolm Farley portfolio of commissioned artwork depicting the world's most prestigious events and personalities continues to grow at an epic pace. The prolific "troubadour of color" has been on the scene for the Grammys, The Olympics, The Presidential Inauguration, and the Championship Games of every major sport. His philanthropic work is approaching legendary status as he has followed his heart in letting his "gift" be the source of funding for many charitable organizations, many times collaborating with celebrities. Most recently his "live" on stage performances with Stevie Wonder, Seal, BB King, and a special Salute to Aviation with Harrison Ford, have left an imprint of his philosophy of living a life of gratitude.
He now lives in Puerto Vallarta with his Jamaican wife and two year old son, and has partnered with Scott Carvin CEO of USWebCentral.com, a Denver Web Design company to launch Vacations Puerto Vallarta, a one stop cultural website of all the sites and sounds of the popular resort community. His two older boys have followed his love of athletics and have successful football careers at Rice University in Houston, while his international upbringing in India has led Malcolm back to more of a "global imagery" depicting music, dance, and culture.
Now, Malcolm has brought together a combination of his paintings of past Super Bowl games that he has painted. The show also consists of paintings of the highlighted players of the past and present, and newly created images commemorating the most memorable moments in history of the NFL.
This week in Indianapolis, at the historical Editions Limited Gallery, a visual history of the Super Bowl through the eyes of America's Premiere Sports Artist will be unveiled. The Gallery. Located in Broad Ripple, the heart of the cultural district, will not only feature art and reproductions for sale, but provide fans a chance to meet Malcolm at a special opening reception, Thursday evening, February 2nd, from 5:00 to 9:00pm.
John Mallon, Editions Limited Gallery (cell) 317-919-0069
David Nahm, Malcolm Farley.com 303-3172093
Scott Carvin, Denver SEO 720-282-1029
# # #