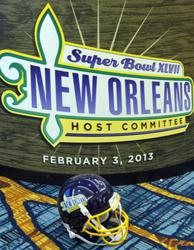 New Orleans, LA (PRWEB) November 28, 2012
SuperBowlLuxurySuites has announced the release of their exclusive Super Bowl packages. Specializing in Super Bowl luxury suites for corporate and VIP groups, SuperBowlLuxurySuites can arrange for premium hotel rooms, limo services, Super Bowl Party Tickets, and all other Super Bowl needs. Each and every year they are the main source and supplier for Super Bowl Luxury Suites and premium Super Bowl tickets with their exclusive access to suite owners and ticket holders. The Super Bowl is unlike any other event and it caters to corporate clients from all over the world. "You never want to take a chance on this event" says Super Bowl Luxury Suites owner DJ Segal. "When you are entertaining your biggest clients, you really need the best. We are known throughout corporate America and all over Wall Street as being the most reliable and the ones who contract directly with the suite owners".
The following are just a few of their locations and configurations:

20 Person Private Lower Level - End Zone
25 Person Private Lower Level – 20/25 Yard Line
40, 50, and 60 Person Private Suites
10 or 20 Tickets in a 40/45 Yard Line Shared Suite
About SuperBowlLuxurySuites.com
SuperBowlLuxurySuites offers a wide selection of premium suites at virtually every professional sports venue around the world.
SuperBowlLuxurySuites was created out of a philosophy of excellent customer service. Two prominent companies in the ticket and entertainment business with over 30 years of experience merged to become one of the most respected and reliable sources in this billion dollar industry.
Buying direct from http://www.superbowlluxurysuites.com SuperBowlLuxurySuites eliminates the stress and hassle of dealing with middlemen. When entertaining clients, friends, or family, one cannot afford to have any problems, so play it safe and buy direct from the source.