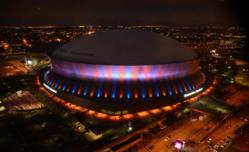 true football fans can see the actual game and skip the excessive hype
Libertyville, IL (PRWEB) January 31, 2013
For those who are somehow unaware, Superbowl XLVII is scheduled to be played this Sunday at the Mercedes-Benz Superdome in New Orleans, Louisiana. Tens of thousands of lucky fans will converge on the city of New Orleans to attend the biggest game of the year. The NFL season championship will be played between the San Francisco 49er's and the Baltimore Ravens. The winners of this game will be awarded the coveted Lombardi Trophy, along with the traditional Superbowl rings and the NFL's 2012-2013 season championship. LED Display Signs, Inc (LDS) has provided a "countdown to kick off" clock to display the days, hours, minutes and seconds until the start of the game. Tens of millions around the world will be watching the clock to make certain that they are in front of a television when the game starts.
The game is scheduled to start at 5:30pm EST on Sunday, February 3rd, but the festivities will begin long before that, along with the games national (and international) television and radio coverage. LDS is happy to provide the "countdown clock" to make certain that fans will know the actual start time for the game. Pre-game coverage has already started with multiple sports channels and talk shows analyzing the teams, players and last but not least, the Harbaugh brothers, Jim and John. Jim Harbaugh is the coach for the San Francisco 49er's, and his brother is the coach for the Baltimore Ravens. This is the first time in the NFL's history that two brothers have face each other as head coaches in the Superbowl. The same day pre-game coverage will begin at 10am with "Road to the Superbowl" and continue through the day, culminating in the actual game at 5:30pm CST. Given the excessive and continuous coverage the countdown clock will provide the actual time remaining until the start of the game, which can get lost in the deluge of pre-game Superbowl shows and festivities.
LDS is a provider of programmable LED signs and electronic message centers that can and are used as countdown displays, is doing its part to help true football fans see the actual game and skip the excessive hype.