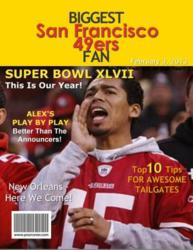 Gave it to my husband [...], he and all his friends loved it!
WIlton, CT (PRWEB) February 01, 2013
Superbowl Sunday February 3, 2013 is one big party all over America. Those attending Superbowl gatherings or just hanging out at home can create a unique gift or keepsake for themselves or for a friend or loved one who is a huge fan of the 49ers or Ravens.
The Biggest Fan Fake Magazine Cover from YourCover is customized with the team name, the fan's name and the fan's photo. Whether this last minute Superbowl gift is for a 49ers fan or a Ravens fan, each magazine cover is as unique as the fan starring on the front.
To make a magazine cover at YourCover, the first step is to choose the Biggest Fan template or one of the 80+ other options. The next step is to upload a photo and the last step is to personalize the title and headlines to reflect the name, memories and "real life story" of the fan whose photo is being featured.
The fake magazine cover can be delivered in several ways. YourCover can print, frame and ship the magazine cover. Orders placed before noon on weekdays typically ship the same day, and delivery time depends on the method chosen and the distance from YourCover's location in Connecticut.
For those with no lead time who need instant delivery of their last minute Superbowl gift, YourCover offers a photo file download. The magazine cover image is instantly available on the order confirmation page and is also sent immediately by email. Customers save the file to their computer for self-printing and framing. Instant delivery of a personalized Biggest Fan magazine cover saves time and money, yet still gives the consumer the opportunity to give a unique and personalized last minute Superbowl gift.