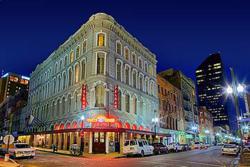 New Orleans, LA (PRWEB) December 13, 2012
SuperBowlHotelSuites.com has announced the release of their exclusive hotel packages for the Super Bowl in New Orleans. February 2013 is fast approaching and as NFL teams across the league fight their way into the biggest game of the year, fans across the country are fighting to lock up hotel rooms for Super Bowl XLVII weekend.
As the leading provider in all things Super Bowl, SuperBowlHotelSuites.com is where you can find everything from luxury suites and premium seats at the game to party tickets and hotel accommodations.
SuperBowlHotelSuites.com offers the best in hotel packages and accommodations at all the top spots in New Orleans including:

Westin Canal Place
Omni Hotel French Quarter
The Roosevelt Waldorf Astoria Hotel
Marriott Renaissance Arts Hotel
Le Pavilion
Harrah's New Orleans
Maison Dupuy French Quarter
Marriott Iberville Suites
Sheraton Canal Street
Clarion Inn & Suites
Hampton Inn Downtown
Holiday Inn New Orleans - French Quarter
As a service-oriented premium hospitality service, SuperBowlHotelSuites.com strives to bring its customers the very best in Super Bowl amenities by organizing the hotel, tickets and party tickets and making this monumental sporting event the milestone it is meant to be in one's life.
Corporate groups from around the world rely on SuperBowlHotelSuites.com every year to handle the needs of their most elite clientele with the top notch professionalism that has made them the clear cut leader in this industry. Drawing from over 30 years of experience in hospitality services, SuperBowlHotelSuites.com has built a reputation for providing the best service in the business.
Buying direct from SuperBowlHotelSuites.com eliminates the stress and hassle of dealing with middlemen. When entertaining clients, friends, or family, one cannot afford to have any problems, so play it safe and buy direct from the source. Rooms are sold first come first served so do not wait any longer to lock up your reservations for The Super Bowl.