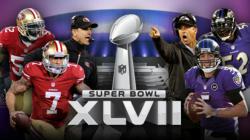 New Orleans, LA (PRWEB) January 23, 2013
Now that Super Bowl XLVII is less than two weeks away and the teams are finally set, fans from around the globe are flocking to SuperBowlLuxurySuites.com to secure their very own luxury suite or premium seat locations for the biggest game of the year.
Inventory is moving fast as Baltimore and San Francisco fans are scrambling to make the trip to New Orleans, in hopes of seeing their team crowned as Super Bowl Champions. As an elite hospitality concierge service, SuperBowlLuxurySuites.com offers the very best inventory in the marketplace at the best prices. Along with an extensive track record of impeccable customer service, SuperBowlLuxurySuites.com has exclusive access to the luxury boxes at the Mercedes-Benz Superdome which ensures their clients are not overpaying for this monumental event.
New Orleans will be rocking as Ray Lewis and the explosive Baltimore Ravens roll into town prepared to battle against Colin Kaepernick and the red hot San Francisco 49ers. The Harbaugh brothers square off in this epic matchup which is sure to be a game for the ages and SuperBowlLuxurySuites.com doesn't want anyone left out of this historic culmination to what has been an unbelievable season. It's AFC vs. NFC in this winner take all battle to raise the Lombardi Trophy.
"It's all about making people happy," says owner, DJ Segal. "This is the biggest event of the year and our clients need to know that we will do whatever we have to do to meet every expectation and make this once in a lifetime experience run as smoothly possible."
Every season, SuperBowlLuxurySuites.com is the primary source for luxury suite and premium seat inventory at stadiums across the nation. However, their dedication to customer satisfaction does not stop there. Along with exclusive suite inventory, SuperBowlLuxurySuites.com has access to all the finest hotels in and around the French Quarter, all of the hot parties and private events taking place in New Orleans, as well as additional Louisiana sightseeing activities such as swamp tours and horse & buggy rides around the city.