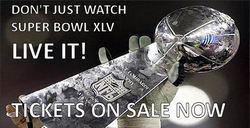 "We provide a personal assistant on game day for our Super Bowl luxury corporate suites."
Beverly Hills, CA (PRWEB) February 3, 2011
Ticketsforsalecheap.com announced today that fans are devouring the remaining Super bowl tickets and group ticket packages for the upcoming Super Bowl game. The well known online ticket broker specializes in sold out sporting events, concerts, Broadway shows and any other event you could possibly want to attend. Ticketsforsalecheap.com boasts a clientele which ranges from Wall Street stock brokers to Hollywood rock and rollers. "It's crazy," states Reed. "Celebrities, executives, Fortune 500 companies
and people who just want to experience their first Super Bowl come to us for the best tickets available."
"We provide a personal assistant on game day for our Super Bowl luxury corporate suites," says Reed." Because a significant amount of our business is corporate, we have a specialist onsite for the event and everything is well planned and executed. Some companies choose to have us make hotel and limo arrangements and we have even had requests for personal luxury aircraft. Tickets for sale cheap has established a clientele over the years that reads like a who's who of America's crème de la crème. Tickets for sale cheap can also deliver tickets via FedEx, email or in person up to a few hours
before the game or event.
"We have broken every record and defied the odds in delivering Super Bowl packages." says Reed. "We sold one package for $112,000 when others tickets brokers were offering the same package for much more." Ticketsforsalecheap.com will not be undersold and has the cheapest ticket prices available anywhere online.
You do not have to be a celebrity to attend the Super Bowl. "Everyone is treated like a star at ticketsforsalecheap.com," states Reed. We have fathers who dream of seeing their first Super Bowl with their son as well as groups of old friends reuniting for their first Super Bowl in 30 years. These stories are what adds to the mystique of this glorious day where the taste of a Super Bowl hot dog can bring tears to the eyes of any sports fan.
Since 2005, ticketsforsalecheap.com has provided sold out Super Bowl tickets and has never failed to accommodate the last minute ticket buyer. "Regardless of the location we always come through." No matter where the event is that you're looking to attend, we have tickets. What Super Bowl attending fan doesn't want that collector's item Super Bowl ticket stub hanging behind their desk with the memories it carries. Nothing is better than taking your best friend or colleague to a Super Bowl. It is a memory that will last a life time.
All tickets including those for the Super Bowl are shipped via Federal Express, unless the ticket buyer specifies email or personal courier delivery. Ticket buyers receive an instant e-mail confirmation with a FedEx tracking number so they can track their Super Bowl ticket order in real time. On corporate
and group discount orders, all group seating is together and pairs are side by side unless the ticket buyer requests they be separate.
All Tickets come with the Tickets For Sale Cheap 100% satisfaction guarantee. Tickets for Sale Cheap has thelargest selection of Super Bowl ticket packages and the lowest prices available, period. If you are looking for the best Super Bowl ticket prices, ticketsforsalecheap.com is the only place for all your ticket needs.
###