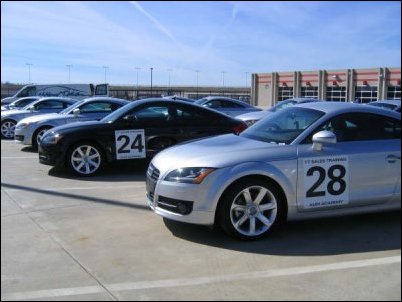 Once again, the team at LaBov & Beyond has outdone itself
Fort Wayne, IN (Vocus) March 20, 2007
The automotive experts of LaBov & Beyond's Supercar Launch Team are working with client Audi of America to internally launch and train the automaker's dealer network on selling its two new sports coupes: the all-new mid-engine supercar, the 2008 Audi R8; and the redesigned 2008 Audi TT.
For the TT launch, which began in Atlanta in mid-February, LaBov & Beyond created and facilitated a multi-day performance- and track-based learning experience for the entire Audi dealer network. Training took place in two-day sessions for groups of up to 150 dealers at a time, with a focus on ensuring a high individual level of interaction with vehicle trainers--and the vehicles themselves.
Training for the TT is ongoing and this week moves from Atlanta to the Firebird Raceway in Phoenix. The format will be the same, with the TT being launched to the entire Western region of Audi's dealer network. Following the launch of the TT, LaBov will partner with Audi to premiere the R8 to a select group of dealers who will offer the limited-edition supercar when it debuts in the United States later this year.
"We want to vault Audi's sporting character and performance products to the forefront of the brand, and the simultaneous launches of these two models accomplishes that," says Ann Jones, vice president of LaBov & Beyond. "We're excited to partner with Audi to make this launch a great success in energizing its dealership personnel and embracing this new mindset and carry that enthusiasm back to its customers."
Training for the Audi R8 will also feature extensive use of custom visual elements, including life-sized motorsports history photo backdrops for team photos; a live, mock race demonstration of Audi R8s at full speed; as well as Audi-branded giveaways.
"Once again, the team at LaBov & Beyond has outdone itself," says Denise Fate, general manager of the Audi Academy, Audi of America's in-house training department. "Thanks to LaBov, we believe we have taken our training to a new level. 'Professional,' 'exciting,' 'valuable' and 'rewarding' are a few words that come to mind--I am sure it will have a lasting impact on our dealer network."
LaBov has conducted all of Audi of America's North American dealer launches since it introduced the allroad in 2000.
LaBov's role in the launch of and training for the Audi R8 is another in its legacy of working with the world's preeminent automakers--including Ferrari, Maserati and Bentley--and their respective supercar models.
To learn all about the Audi R8 and TT, visit audiusa.com.
LaBov & Beyond, Inc., founded in 1981, is a marketing, communications, advertising and training company that focuses on clients with dealer/distributor networks. These clients come from a variety of industries--automotive, recreational vehicle, trucking, consumer appliance, insurance and finance, to name a few. The company specializes in comprehensive creative development and production involving a number of disciplines working in a range of media that includes video, interactive and print. In addition to its headquarters in Fort Wayne, Indiana, LaBov & Beyond maintains a full-service office in Detroit, Michigan. You can learn more about the company by visiting http://www.labov.com.
Media Contact:
Kevin Erb
Writer/Editor, Public Relations Coordinator
260.497.0114 (office)
kerb @ labov.com
###