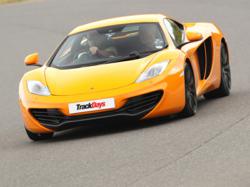 the absolute best of the best Supercar Driving Experience in the World
Leicestershire, Surrey, North Yorkshire, Warwickshire (PRWEB UK) 19 October 2012
Trackdays.co.uk have released what they say will be their flagship driving experience for 2013. The experience is named 'Trackdays Horsepower Heaven' and involves driving five top end Supercars including the McLaren MP412C and the Ferrari 458 Italia. Gifts vouchers for the new experience went on sale Thursday 18th October and the first dates for the experience will begin in February.
The Horsepower Heaven supercar driving experience is completely exclusive to trackdays.co.uk and the first anywhere in the World to include the McLaren MP4, Ferrari 458 Italia, Lamborghini Balboni, Porsche 996 Turbo and the Audi R8 V10. anyone with a valid driving licence can do the experience and it is available at three locations in the UK, Prestwold Hall in Leicestershire, Kenilworth in Warwickshire, Dunsfold Park in Surrey and Elvington in North Yorkshire.
Drivers will get 6 laps of the Circuit in each Car under the supervision of a qualified supercar driving instructor and may also purchase photos of them in the driver seat.
Dan Jones, Operations Manager for Trackdays.co.uk said "we wanted to be able to offer our customers the absolute best of the best, so decided to make a flagship experience that you cannot get anywhere else in the World. These Cars are top of the line from the World's best Supercar manufactures and it's without doubt the best supercar package we have ever released".
"We have kept the price as low as possible to make this accesable to as many people as we can. If you are a group of friends or family looking for something like Fathers Day gift ideas where you can club together then this product is very affordable"
For all the latest gift ideas for Christmas or to order a gift voucher for the Trackdays Horsepower Heaven visit the website.