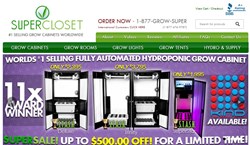 (PRWEB) October 31, 2013
"There have been a lot of companies over the years that have come and gone in our industry," states CEO Kip Andersen, "but we recognized early on that being innovative and adaptable to the growing needs of our customers was the path to longevity." SuperCloset prides itself as being the first cabinet grow box manufacturer in the organic gardening marketplace. The initial intention was simple, "Take all the key components of a Bay Area grow room, condense it, package it as ready-to-grow turnkey product that anyone can unwrap and begin growing within the first hour of receiving it. Take the guesswork out of growing and help novices become master gardeners after their first harvest". This mantra evolved from blood, sweat and passion over the last 11 years. There are now several "pop-up" grow cabinet imitation companies that have just entered the industry in the last couple of years by trying to copy the application and design of the SuperCloset cabinet grow box system. Imitation is the best form of flattery.
There are now over 30 products in the SuperCloset product suite and each caters to different grower needs and wants. There are horizontal oriented hydroponic systems, vertically oriented hydroponic systems, cabinet grow boxes, stand-alone hydroponic systems and grow tent packages. SuperCloset has crossed international borders and there are SuperCloset systems in Canada, Mexico, Brazil, UK, Germany, Norway, Spain, Australia, and New Zealand. In addition, because of SuperCloset's commitment to incorporating only the finest components the company has partnered with the best in class brands.
The addition of the KIND LED grow light product line has dramatically bolstered cabinet grow box sales and has been the driver in garnering market share from the competition. KIND LED lights complement the SuperCloset cabinet grow box systems well because of their sleek design, low heat output and their sustainable power saving efficiency.
To learn more about SuperCloset's best in class cabinet grow box products, go to http://www.supercloset.com.
About SuperCloset:
SuperCloset takes the guesswork out of growing through manufacturing the most innovative and customer friendly hydroponic systems and turnkey grow box units. After 10 years SuperCloset continues to lead the horizontal and vertical growing industry with its commitment to excellent products and world-class customer service.