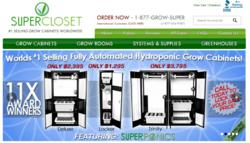 San Francisco, CA (PRWEB) June 26, 2013
Just like Apple, SuperCloset was literally started in a garage in the Bay Area of California. The concept was simple, "Take all the key components of a Bay Area grow room, condense it, package it as ready-to-grow turnkey product that anyone can unwrap and begin growing within the first hour of receiving it. Take the guesswork out of growing and help novices become master gardeners after their first harvest". This mantra evolved from blood, sweat and passion over the last 11 years.
There are now over 20 products in the SuperCloset product suite and each caters to different grower needs and wants. There are horizontal oriented hydroponic systems, vertically oriented hydroponic systems, cabinet grow boxes, stand-alone hydroponic systems and grow tent packages. SuperCloset has crossed international borders and there are SuperCloset systems in Canada, Mexico, Brazil, UK, Germany, Norway, Spain, Australia, and New Zealand. In addition, because of SuperCloset's commitment to incorporating only the finest components the company has partnered with the best in class brands. Lumatek, the world's leading manufacturer of cutting edge lighting solutions for indoor gardening, power every SuperCloset grow box and tent package. Lumatek stands behind their product's ability to ensure maximum yield and crop health, with one of the best warranties and customer service in the industry.
SuperCloset believes that the future of the indoor gardening industry is extremely bright and that that the industry will continue to offer products that are more efficient and more sustainable. LED lighting is being welcomed whole heartedly at SuperCloset because of the recent advancements in the technology that render it the "next" big thing in indoor gardening. There is a great deal of waste created even from a small grow room inside a home or condominium and it's up to the manufactures to use recyclable materials and environmentally friendly packaging for its products. All of SuperCloset's cabinets are made from recyclable steel and all of the SuperPonics products are made from recyclable plastic. Finally, SuperCloset has plans to expand to outdoor applications like greenhouses and the burgeoning rooftop hydroponic garden scene in the urban sprawls across the world. Happy Growing
About SuperCloset:
SuperCloset takes the guesswork out of growing through manufacturing the most innovative and customer friendly hydroponic systems and turnkey grow box units. After 10 years SuperCloset continues to lead the horizontal and vertical growing industry with its commitment to excellent products and world-class customer service.