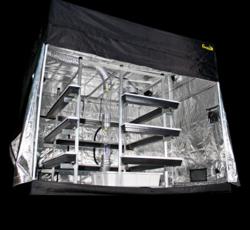 San Francisco, CA (PRWEB) November 27, 2012
The Big Buddha Box is a vertically oriented hydroponics grow room system is an 87-plant maximum capacity vertical grow system nested within the tiered grow trays situated around a centralized light column, which extends from floor to ceiling. The effect of this amazing set up is four lush walls of flora all growing towards the center of the system. Growing vertical's main benefit to the hydroponic indoor gardener is to quadruple their yields but only using half the electricity compared to a horizontal oriented hydroponics system.
The heart of the Big Buddha Buddha Box is the SuperPonics hydroponics system. Big Buddha Box's SuperPonics reservoir system has been optimized for water distribution and flow. Superponics, put simply, is a synergy of hydroponics technology. It is the technical term that combines all of the best hydroponics growing methods into one system that grows plants up to 2x-5x faster than traditional methods. Superponics systems fuse different combinations of Top Feed, Deep Water Culture, Ebb N' Flow, Bubble, and Aeroponics all into one automated system allowing you to grow the fastest, easiest, and most you possibly can in your allotted space. While everyone knows that plant roots need nutrients and water, average growers often neglect the most important element, the oxygen. In order to reach their full potential and completely thrive, plants need the nutrient rich water to also be rich in oxygen. The Big Buddha Box Superponics system utilizes two methods to achieve maximum oxygenation of the roots, Ebb n' Flow and Bubble, Aeroponics. The fully automated pumps slowly raise and lower the water level in each lateral tank, which ensures that the roots achieve equal quantities of oxygen throughout the day and the air stone diffusers create a "root jacuzi" for any remaining water in the tiered grow trays.
For more information go to http://www.supercloset.com