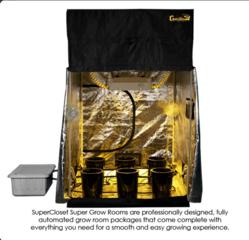 San Francisco, CA (PRWEB) May 24, 2013
The SuperCloset SuperRoom grow tent packages come with every component needed for the beginning to master gardener to successfully complete their grow tent set-up quickly and efficiently. Only top of the line components like Lumatek ballasts, Phresh filters, SuperPonics hydroponics systems, Sunlight Supply's Blazer reflector are included with the tent packages.
SuperCloset began including grow tent kits and grow tent packages to their product suite to satisfy the growing demand for indoor greenhouse products. Adhering to their company motto of providing only the best equipment for indoor gardeners, SuperCloset decided to put together the best grow tent kit packages on the market today. Gorilla Grow Tent's were chosen as the tent of preference and the foundation for the tent packages because of their ability to give indoor gardeners the ability to adjust the height of their grow tents from a standard 7ft up to 8ft and even 9 and 10ft within minutes. The incredibly thick 1680D fabric mesh ensures that the grow tent growing environment stays insulated, odor and sound proof.
Lumatek is the industry leading electronic ballast manufacturer and the ballast of choice for all of the SuperRoom grow tent packages. Lumatek ballasts can fire both metal halide and high pressure sodium bulbs on the same reflector. Phresh filters are the top of line carbon scrubbers that greatly reduce odor inside the grow tent kits. SuperPonics hydroponics systems; the SuperPonic-16, the SuperFlow and Super Bubble Flow buckets are the best hydroponic systems on the market today.
SuperPonics systems combine dual hydroponic technologies for redundancy and insurance for growers who want only the best for their plants and don't want to worry about system failure.
For more information about the grow tent kits and grow tent packages offered at SuperCloset, go to http://supercloset.com/product-category/grow-rooms/
About SuperCloset:
SuperCloset takes the guesswork out of growing through manufacturing the most innovative and customer friendly hydroponic systems and turnkey grow box units. After 10 years, SuperCloset continues to lead the horizontal and vertical growing industry with its commitment to excellent products and world-class customer service.