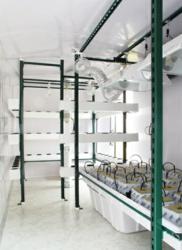 San Francisco, CA (PRWEB) November 13, 2012
The SuperGrow trailer is a complete plug and play unit that comes with a 3 year warranty on all components. Since this hydroponic grow trailer is fully customizable, it can be set up any way a customer wants it to be oriented. Currently it is set up with (2) two fully automated VerticalPonics BigBuddhaBox systems. These systems enables a customer to grow 2-4 times more than any traditional horizontal grow room set-up and use much less space and electricity to do so. This is due to the fact that a customer uses 100% of the light source versus only around 30% for traditional hood methods.
The dimensions of the SuperGrow Trailer are 8' Tall, 10' Wide and 20 feet long. It is professionally engineered, professionally insulated for all weather options, and has a very clean appearance inside and out. The grow trailer is powered by either AC or DC current and can be incorporated into a solar panel array that can be place on the top of the SuperGrow Trailer or alongside of it.
In addition, the Clone Machine can be added into the first compartment in the SuperGrow Trailer, enabling a customer to start 192 clones that can be seamlessly transplanted into the main growing areas inside of the SuperGrow Trailer.
Go to http://www.supercloset.com for more details.