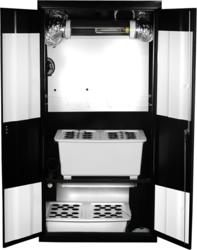 San Francisco, CA (PRWEB) February 07, 2012
SuperCloset, http://www.supercloset.com, is pleased to announce that its best selling growbox, the Deluxe2.0 arrives in London this week with full distribution for the entire U.K. planned for early March. "We are extremely pleased to finally offer our best selling product to our European customers after the countless requests for it," says Rory Kagan, General Manager at SuperCloset. "We are in the midst of a paradigm shift in the way we look at our global business opportunities," Kagan says, "the Middle East is another hotbed of sustainable farming through hydroponic farming innovation."
According to SuperCloset, , the Deluxe 2.0 was chosen because every single imaginable component needed to begin a successful indoor growing project is included in the Deluxe 2.0 making it the best grow box choice for the person that wants to spend time growing; not searching for components. This is important for the U.K. customer who may not have equipment retailers near them.
Indoor growing in the U.K. has seen an uptick because of the demand for organic vegetables and a more buy local culture.
The SuperCloset Deluxe 2.0 is the updated version of the classic Deluxe cabinet. Always in the lead for hydroponic systems innovation, SuperCloset has improved the design of the Deluxe over the last 10 years. The older hydroponics system reservoirs have been replaced with the SuperPonics reservoirs. Combining top feed and deep water culture hydroponic system techniques, the SuperPonics reservoirs give the hobby grower peace of mind automation through these water delivery methods. The Deluxe boasts best in class airflow with the combination of an oversized carbon filter that removes waste odoriferous air and the internal circulation fan that moves air around the cabinet which is crucial for vigorous plant growth.
About SuperCloset:
SuperCloset takes the guesswork out of growing through manufacturing the most innovative and customer friendly hydroponic systems and turn key grow box units. After 10 years SuperCloset continues to lead the the horizontal and vertical growing industry with its commitment to excellent products and world-class customer service.
###