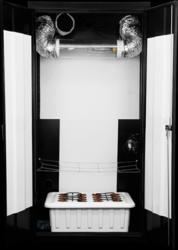 San Francisco, CA (PRWEB) February 24, 2012
The makers of the world's top selling grow boxes has created the SuperFlower grow box to satisfy the needs of the grower that has the ability to transplant existing smaller plants straight into a fruiting/flowering environment. The SuperFlower is optimized for perfect airflow throughout the grow cabinet. The SuperFlower ships standard with a 600W High Pressure Sodium/Metal Halide dimmable and switchable lighting system. This means that a customer will have the ability to use either bulb on the electronic Lumatek ballast that powers the lighting system. What is also remarkable is that the customer can dim the bulb down to a lesser wattage so that the customer can save money on their electric bill when the plants are still young. The SuperFlower also comes with an adjustable net trellis which aids in plant management and driving as much yield as possible out of each grow. In addition, a starter nutrient kit, all fans, filters and every other component imaginable comes with the system. It is SuperCloset's intention that the customer is up and growing within 90 minutes of receiving their SuperFlower.
"We are very happy to release the SuperFlower after repeat customer inquiries about wanting a grow cabinet dedicated solely to fruiting and flowering," states Kip Andersen, CEO of SuperCloset. "The SuperFlower complements our grow box line very well because of the ability for customers to grow their plants over 4 feet tall," says Andersen. "The SuperFlower is designed to maximize yields of all indoor herbs, fruits and vegetables." Check out the full line of SuperCloset grow boxes and grow rooms at http://www.supercloset.com
About SuperCloset:
SuperCloset takes the guesswork out of growing through manufacturing the most innovative and customer friendly hydroponic systems and turnkey grow box units. After 10 years SuperCloset continues to lead the horizontal and vertical growing industry with its commitment to excellent products and world-class customer service.
###