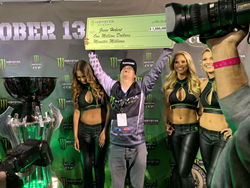 I couldn't be more thrilled to win the Monster Millions grand prize. I'm a huge fan of Monster, and Supercross has been a major passion of mine. I'm truly thankful to Monster Energy for this life-changing experience - Jesse Hebert
LAS VEGAS (PRWEB) October 25, 2018
Monster Energy congratulates Supercross fan Jesse Hebert from Beltsville, Maryland on winning the $1 million grand prize in the consumer sweepstakes at the Monster Energy Cup event on October 13. The 27-year-old Monster Energy fan and former amateur motocross rider scored the largest consumer sweepstakes payout in energy drink history in the Monster Millions promotion that was open to fans across the United States.
From May 1 until August 31, consumers were invited to participate in the Monster Millions sweepstakes via local retailers nationwide for a chance to win Supercross-themed prizes. One hundred first-prize winners received a special edition Eli Tomac jersey and helmet, while ten lucky winners including Jesse Hebert were flown to Las Vegas for a VIP Monster Energy Cup experience. During Saturday night's event, the ten winners had a chance to enter a floating money machine with $1000 in cash and grab as much money as they could.
When all bills were counted, it was Hebert who emerged from the floating money machine holding the most bank notes – a cold $406 in cash.
The next step was up to destiny: The winner who could collect the biggest bundle of cash was eligible to win the $1,000,000 under the condition that one and the same rider won all three of the ten-lap races held during the Monster Energy Cup. This is exactly what Monster Energy Supercross team rider Tomac achieved on his Kawasaki at Sam Boyd Stadium in Vegas, triggering a double million-dollar payout. Not only did Tomac receive his Monster Millions stash on the podium that night, but he also unlocked the one million dollar cash prize for Hebert.
"I couldn't be more thrilled to win the Monster Millions grand prize. I'm a huge fan of Monster, and Supercross has been a major passion of mine. I'm truly thankful to Monster Energy for this life-changing experience," said Hebert upon winning the $1 million sweepstakes in Las Vegas last weekend.
As the next step, Monster Energy is excited to work with Hebert to publicize the Supercross enthusiast's historic win in the Monster Energy sweepstakes. The Monster Energy team is currently scheduling a hometown celebration at Hebert's favorite Monster Energy retailer, as well as a trip to Corona, California to visit the Monster Energy HQ and Kawasaki supercross training center.
The one million dollar payout is not the only history-making feat at this year's Monster Energy Cup. Tomac also set a new record as the first two-time Monster Energy Cup Champion in the eight-year history of the all-star Supercross event and celebrated his victory joined by Hebert on the podium in Vegas.
"I was just full on, that's all there was to it," said Tomac on the podium. "It was just wide open; I was making the passes, and then it was just all the way 'til the end. This is just insane. Unbelievable."
Tomac's million-dollar victory marks the third time a racer took the top spot – and massive cash prize – in Monster Energy Cup history. Ryan Villopoto took home the million dollars at the first-ever Monster Energy Cup in 2011, and Marvin Musquin achieved the impressive feat in 2017. Both former Monster Energy Cup champions competed in Saturday's event and congratulated Tomac on his win.
Standing next to his favorite Supercross racer, the Monster Millions sweepstakes winner Hebert hoisted his $1 million check overhead in front of the crowd at Sam Boyd stadium. If anyone says that nobody ever wins money in consumer sweepstakes, they are definitely one million percent wrong.
Download photos for editorial use.
Follow Monster Energy on YouTube, Facebook, Instagram & Twitter.
About Monster Energy
Based in Corona, California, Monster Energy is the leading marketer and distributor of energy drinks and alternative beverages. Refusing to acknowledge the traditional, Monster Energy supports the scene and sport. Whether motocross, off-road, NASCAR, MMA, BMX, surf, snowboard, ski, skateboard, or the rock and roll lifestyle, Monster Energy is a brand that believes in authenticity and the core of what its sports, athletes and musicians represent. More than a drink, it's the way of life lived by athletes, sports, bands, believers and fans. See more about Monster Energy including all of its drinks at http://www.monsterenergy.com.