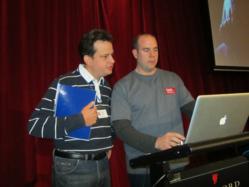 Because the Forum is full of motivated members, all sharing knowledge and tips, it is dynamic - just like the internet
Noosa Heads, Queensland, Australia (PRWEB) December 29, 2011
The SuperFastResults internet marketing and online business forum has, in the 3 years since its inception, become the benchmark for creating and sharing cutting-edge strategies, tools and techniques. Aspiring members are usually asked to join a wait list for entry to the forum, but for a very limited time the membership doors are open - just a crack.
Australian James Schramko, and the Swiss Andy Grand, created SuperFastResults back in 2008, and since that time the paid-membership forum has provided high level training and mentorship to hundreds of aspiring online business people. Such as been their success that many of these have become experts in their own niches, and continue to share their tips and strategies with other forum members.
A member since early in 2009, internet marketer and writer, Kerry Finch, believes the information and tools she has utilized, that are available to SuperFastResults members only, have had a dramatic impact on her various online businesses.
"I continue to be amazed at the resources that James and Andy make freely available to SFR members. The training videos and free access to products are worth thousands on their own" she said. "Because the Forum is full of motivated members, all sharing knowledge and tips, it is dynamic - just like the internet."
Other forums, she says, particularly the free ones, are populated by get-rich-quick and often dubious products and marketers.
"James and Andy maintain a limit on the number of members able to join the SuperFastResults forum, which is why now is a unique opportunity to join. They are both active in the forum each day, monitoring the questions, responses and adding new content and tools" she said. "Often people can be on the wait list for months before being offered membership."
Membership to SuperFastResults internet marketing forum is being quickly seized and will remain open for a limited time only, and will revert to wait list status at the discretion of James and Andy.
For more information, and to apply for Membership, visit SuperFastResults
About Kerry Finch
Kerry Finch is the principal of Kerry Finch Writing, and the newly released OBRA.com.au which delivers up to the minute information on online business opportunities for regional Australians. An internet marketer herself, her core business focusses on the provision of writing services for a wide variety of businesses with an online presence – from mining and industrial sectors through to local tradespeople.
With established professional relationships with some of the most innovative and highly regarded internet marketers in the world, Kerry is in an ideal position to identify those training programs, services, software and tools that will be necessary for your business now, and in the future. She has been event manager for several highly regarded online business training events held in both New South Wales and Queensland.
Diploma in Marketing Management
Member Internet Marketing Association
Member, Australian Society of Authors
Member, Internet Society of Australia
Diamond Author, Ezinearticles.com
More information about Kerry Finch
###