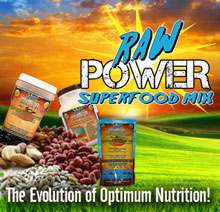 Industry Experts report, "There is nothing else like it anywhere. It's really a completely new category of food product." - Mark Seyforth, Founder, "The Milk Shake Diet" - Slender Now
Sarasota, Florida (PRWEB) April 30, 2013
Superfoods and a Superfood Diet may be the answer Americans have been looking for to counter the epidemics of: overweight, obesity, diabetes, pre-diabetes, insulin resistance, heart disease and the wide array of chronic diseases associated with them.
Body Symphony, LLC, a small Florida-based company completes "proof of concept" on a unique superfood product designed to change the nutritional landscape. Raw Power Superfood Mix™ creates an entirely new category of natural, whole-food product that has the potential to help millions of people overcome a wide array of health challenges.
The product has just completed two years of final fine-tuning in health food stores across the state of Florida. This follows over 20 years of development, refining, and testing on thousands of friends and patients of the developer / inventor, Dr. Max MacCloud, DO, ND, PhD. Dr. Max's mission is to help people overcome their health challenges and lead healthier, happier, productive lives.
"According to the Center for Disease Control, a full 75% of Americans are either overweight or obese including over 30% of our children. We are headed down a very slippery slope. None of the big food companies are stepping up with products to help reverse this disturbing trend. I felt the need to do something to help," said Dr. MacCloud.
A diet rich with Superfoods or a superfood diet have become increasingly popular over the past several years as research confirms what many ancient cultures believed about the superior nutritional properties of certain foods. While many companies have launched various versions of superfoods, only Body Symphony has chosen to combine a variety of "everyday superfoods" along with "concentrated superfoods" into a great tasting formula. The key difference is that it is designed as a staple food rather than a concentrated supplement. They have taken whole raw food and disguised it to look and taste like a treat.
The ingredient list reads like a who's who of nutritional powerhouses. Raw Power SuperFood Mix is High in: protein, fiber, healthy fats (Essential Fatty Acids & Medium Chain Triglycerides) & phyto-nutrients, including anti-oxidants & glyconutrients. It's also gluten-free, very low sugar, low glycemic & mostly organic. There are different versions to satisfy different dietary philosophies including: vegan, lacto-vegetarian, ovo-vegetarian, as well as Paleo or the Paleolithic Caveman Diet.
According to Dr. MacCloud: "What most time-challenged Americans need is an aggressively nutritious default meal. They need something that is easy & convenient that can be consumed in a variety of great-tasting ways."
Raw Power Superfood Mix™ is a blend of over 30 whole, superfoods combined into a versatile mix that can be used over a dozen different ways, including shakes, muesli, cookies, cupcakes, muffins, "bites," brownies, burgers, pancakes, ice pops, frozen desserts, and more. It comes packaged as a raw, whole, dry food mix with excellent shelf life. It can also be eaten right from the package or added to other foods to boost the nutritional value, taste and texture of other foods.