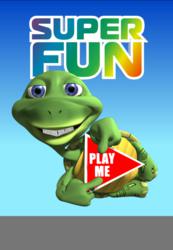 The silliest and funniest app ever, I send my friends the phrases and share it to my facebook page all the time. Can't wait until we can download more funny voices."
Beverly Hills, CA (PRWEB) April 20, 2012
Get used to this catch phrase: "Why have fun, when you can have Super Fun!"
Super Buttons LTD is launching their first iPhone app, Super Fun, introducing the world to the Super Fun Turtles. It is being heralded as a very funny application with hilarious voices and animations. From a surfer to a rapper, a witch to a robot – the Super Fun turtles seemingly just wanna have fun. The app is centered on providing lots of fun to users in their iPhone, taking full advantage of the LED display with clear and vivid CGI technology.
The Super Fun Turtle App has landed in the App Store and is ready for immediate download, the first of many mobile applications for Super Buttons LTD, based out of London. So far reviews has been extremely positive, and with the help of social media, the app is positioned to make a big impact in the entertainment category of the iTunes store. Users are invited to laugh along to the antics of their Top 10 Turtles doing and saying things that are intended to provide fun and laughs, hopefully propelling the company to a competitor in the mobile development market.
Celebrating their official launch, for a limited time they are offering 5 more turtles for free, as opposed to the original 10 that were included in the apps development. The company intends to release more turtles, all of which have a distinct voice and personality, in the coming months to keep users entertained throughout the coming years.
Super Buttons LTD has already seen a positive reaction for their application. As many know, reviews are the cornerstone to the success of an app in the iTunes store. With a 99 cent price tag, they are hoping for positive reviews so it can lead to future plans for more applications to come. So far reviews are good, with many saying, "This app is addictive."…"Love it."…"OMG, it's classic!"
Features for the Super Fun App include:
15 custom voice styles and accents High quality turtle animations with unique moods and gestures
Social Media ready
Favorites feature
Very interactive and perfect for new LED iPhones and future updates
This is the first app from Super Buttons LTD. Located in London, Super Buttons will be offering more voices in the near future in coming updates for its users. They are a new generation of app developers that are developing applications with almost life like animations and vivid display. With the increased popularity of iPhones and mobile technology, Super Buttons LTD can lead the wave of new and upcoming companies that look to create an immediate impact in the ever growing mobile entertainment market.
For more information and to download, visit the app site in the iTunes store