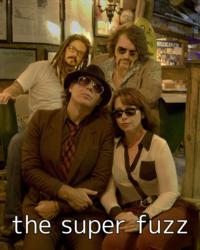 "Songs are instantly memorable... I dare you not to sing along... most impressive". - Powerpopaholic
Miami, FL (PRWEB) November 20, 2012
Outstanding... Classic sound of vintage 70's rock in a contemporary light... put at the top of your 'to buy' list! - Now This Rocks
The Super Fuzz (aka The Chris Alvy Band) releases their first album entitled, "Art Noise." Described by one morning TV show host as "Scooby-Doo meets The Blues Brothers," The Super Fuzz definitely comes across as a twisted Adult Swim pilot of mismatched characters. Frontman Chris Alvy's background includes not only a stint as a pro-ball player with The Yankees, Astros, and White Sox, but also as a writer for international recording artists, and being in the house band for Mira Quien Baila, Latin America's answer to Dancing with the Stars. The music of singer/songwriter Chris Alvy captures the vintage '70s rock sound and combines it with an alternative edge. Classic Rock influences such as Matthew Sweet and Teenage Fanclub, seamlessly pervade their music. The group's songs convey a new hipness and stylistic flair that give them their own niche in today's rock and roll landscape.
Their debut LP, "Art Noise," is a 12-song reflection of the group's unabashed love of guitar rock and indie pop with lush harmonies and emphasis on melody. This album showcases the band's ability to combine interesting musical twists with commercial sensibilities and it leaves listeners with memorable hooks that they will be humming for days. The track "Inside Job" features hard-hitting guitar and characteristic background harmonies of The Beach Boys and The Beatles. The title track "Art Noise" has a catchy guitar riff that grabs the listener's attention with Alvy's in-your-face lyrics and raw vocal. "Art Noise" delivers a gratifying listening experience reminiscent of the days when people bought records to listen to in their entirety, not just one or two songs.
The Super Fuzz is made up of Chris Alvy (vocals, guitar), Darrell Killingsworth (bass), Todd Taulbee (drums, vocals), Daniel Peralta (guitar, vocals), and Ana Valenzuela (keyboard). "Art Noise" was produced, engineered, and mixed by Fernando Perdomo (Cristian Castro, Ed Hale and Transcendence, Jorge Moreno) and Chris Alvy, and was mastered by the Grammy Award winner Zach Ziskin.
You can learn more about The Super Fuzz at http://www.thesuperfuzz.com.
If you have any questions, comments, or would like to set up an interview please contact Melissa Zeigler: melissa(at)powderfingerpromo(dot)com.