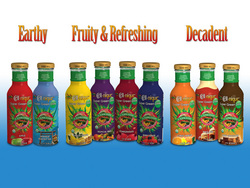 Take the Cell-nique Journey by trying all 9 flavors and seeing for yourself which taste your palate favors. We have categorized each experience to help you decide what will quench your mood
Weston, CT (Vocus) September 24, 2009
Cell-nique is the first ready-to-drink Organic Super Green beverage to hit the market and nourish the body in a whole new liquid way. Cell-nique is 100% isotonically perfect, sending the nutrients directly from the palate into the bloodstream to a cellular level. It is formulated to fight the effects of acidic build up by promoting the cleansing and detoxification of cells through an infusion of plant-based phyto-nutrients and antioxidants.
"Take the Cell-nique Journey by trying all 9 flavors and seeing for yourself which taste your palate favors. We have categorized each experience to help you decide what will quench your mood", says Donna Ratner, Co-Founder of Cell-nique. The categories include EARTHY: Japanese Roasted Tea, Apple; FRUITY & REFRESHING: Pomegranate, Lemon-Ginger, Tropical, Berry-Grape; DECADENT: Citrus Vanilla, Root Beer, Dark Chocolate.
This protein-packed beverage is loaded with 31 Super Foods that nourish, cleanse and alkalinize the body. It is different from other premium drinks because this nutrient-rich Super Green beverage is high in protein, low in calories and contains no added sugar.
Cell-nique is made with organic Super Green foods such as Spirulina, Chlorella and Blue-green algae as well as cereal grass juices and sprouts like barley, wheat, oats and alfalfa. It also contains the high anti-oxidant Super Fruits like Noni, Goji berry, and Acai. These ingredients have more nutrients than common vegetables, fruits and grains, and drinking a single bottle of Cell-nique provides the equivalent nutrients found in 6 to 8 servings of fruits and vegetables.
Drink 1 bottle of Cell-nique every day for a week and become aware of an improvement in Stamina, Focus, Energy, Balance, Calmness, Mental Clarity, Strength Building, Bowel Regularity, Cravings, Confidence, Sleep, Mood, & Skin.
Feeding the cells every day with Cell-Nique's 31 Super Foods will fortify the blood to pump and nourish all of the organs and aid in Detoxification, Alkalinizing, Digestion, Weight Control, Boosting Immunity, Anti-Aging and Oxygenation.
Each bottle is Gluten-Free, Low-Glycemic and Vegan.
"Have You Fed Your Cells Today?"
###