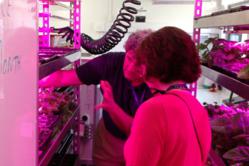 Its a perfect day, every day, inside the SuperGrow Container
Washington, DC (PRWEB) April 30, 2012
As part of the 2012 Earth Day celebrations and events, Sustainable Essentials Enterprises, LLC debuted the SuperGrow Container™ on National Mall of Washington DC at the 2012 National Sustainability Design Expo, sponsored by the EPA. The SuperGrow Container™ can grow 1,000 pounds of organic produce a month, year round, in its controlled environment at a cost less than or equal to field grown produce. "What we've done is trade off the embedded energy cost of moving produce around by air, rail, and truck after it has been grown in the fields with the cost of having a controlled environment to have locally grown produce year round next to the restaurant, grocery store, school, or charity food pantry parking lot." says James Christopher, CEO of Sustainable Essentials.
SuperGrow™ Solutions use "terraponic" growing methods, meaning the produce grows in soil, just as when grown in the fields, rather than "hydroponic" or "aeroponic" techniques. This natural soil based method allows the produce to be certified organic and allows for the great taste and nutrients that come from home gardens. By controlling the lights, temperature, humidity, water, and other environmental factors, it's a perfect day every day for the plants to grow. Christopher indicates, " Instead of modifying the genetics of the plant or compensating for an unfavorable environment with petroleum based pesticides or fertilizers, we simply give the plants exactly what they would have on an ideal summer day. By giving the plants a perfect day every day, they grow perfect produce very fast."
How fast? All produce grown in the SuperGrow Container™ grows in 60% or less of the time it takes to grow produce in the field. James Christopher explains why, "The plants grow as fast as they do because they are never stressed. There are no cold night, or too hot days. There are never droughts or freezes, hail or floods. Pests do not munch on the roots or the leaves."
What produce can be grown in the SuperGrow Container™? "Right now our focus is basically the American salad bar" answers Christopher. "Lettuces, herbs, tomatoes, peppers, cucumbers can be grown. The choice is up to the grow operator as to whether they want to maximize profits or maximize variety and social impact." Christopher indicates.
What does mobile mean in regards to the SuperGrow Container™? "The SuperGrow Container™ can be deployed anywhere in the world. It is manufactured to our specification by our partner Rolling Star Manufacturing, who works with the military and the emergency fire/rescue market to provide a command centers and the like which contain highly sensitive equipment in places ranging from Alaska to Saudi Arabia. The SuperGrow Container™ basically holds highly sensitive items called produce. It's good to go anywhere from main street USA to the most remote of locations."
What about the lights? Christopher explains, "The SuperGrow Container™ is a vertical farming or controlled environmental agriculture solution which utilizes the latest in LED technologies to provide the light each plant variety requires. Our partner, HiViz LEDs, has provided excellent product guidance, installation design, and some exciting remote control and monitoring technologies for the lighting subsystem."
Sustainable Essentials Enterprises, LLC is a leader in controlled environmental agriculture and utilization of alternative energy technologies. The SuperGrow Container™ is one of several solution offerings to provide locally grown, organic produce, year round with predictable yields that are safe, secure, nutritious and delicious. Find them on the web at http://www.supergrow.ag