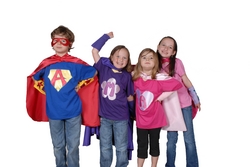 The most important thing is getting these in the hands of the kids that need them most.
Plymouth, MI (PRWEB) September 15, 2010
When kids need hope and strength the most, what can be more powerful than turning them into superheroes? Not much. Through this newly formed partnership with the Heart Heroes, who help kids born with heart defects, PowerCapes.com is giving kids around the world the strength they need to face very difficult times.
Anybody can go onto their website to donate a cape directly to these kids, whom need something like this so desperately in their time of need. A donation for the heart heroes is not currently tax deductible, however the Heart Heroes are in the process of applying for 510c3 status. If you want the write off you can also donate to one of the other non profits PowerCapes.com supports. When purchasing a custom superhero cape for your own child a portion of the proceeds are donated to a variety of non profit organizations all dedicated to helping children in need.
Holly Bartman made a cape one day for her son, and from there word began to spread. One day Kitty Burton from the Heart Heroes in Omaha, Nebraska reached out to PowerCapes about helping kids with Congenital Heart Defects. PowerCapes had a unique opportunity to help these kids and they immediately decided that they would help. "We are very excited to be working with PowerCapes and appreciate their generosity to helping us accomplish getting every CHD heart hero a heart cape," said Kitty.
A spokesperson, Justin Draplin, of PowerCapes stated, "Every non profit we work with we customize a program that can most benefit their organization. The most important thing is getting these in the hands of the kids that need them, so we've found it's best to find a way to work with any organization that needs our help."
PowerCapes also partners with the Princess Alexa Foundation, an organization dedicated to Celebrating the childhood spirit of seriously ill children through dress up and play, as well as Camp Adventure, a camp in New York for kids suffering from cancer, as well as other organizations.
###