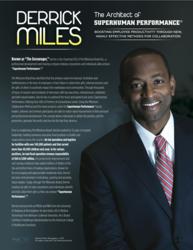 Too often people find themselves in employment situations that do not maximize or even appreciate their natural gifts and talents
Raleigh, NC (PRWEB) November 21, 2011
Just as millions of people around the globe have found their purpose via Dr. Rick Warren's NY Times bestseller, The Purpose Driven Life, Derrick Miles, Chairman and CEO of The Milestone Brand, intends to teach millions how to determine and define their "gifts". "Too often people find themselves in employment situations that do not maximize or even appreciate their natural gifts and talents," states Miles. "Our company, (Miles is in partnership with his brother Darrayl) can provide assessments and training to enhance and maximize the performance of employees within a designated period of time."
The brothers have co-authored the book Superhuman Performance. They are now among the elite business authors, such as, Stephen R. Covey, Jack Welch and John C. Maxwell, whose books are coveted by those subscribing to the Soundview Executive Book Summaries service.
The public will have an opportunity to learn the specifics on assessing and defining their gifts through a webinar produced by SoundviewLive. The webinar entitled: Utilizing Your Gifts for Superhuman Performance will be held Tuesday, November 22, and will begin promptly at 12:00 p.m. EST. The fee for the webinar is $59.00. To register visit: http://www.summary.com and click onto the webinar tab featuring Derrick Miles as speaker. Journalists and established bloggers may request a complimentary link for the webinar by sending their requests via e-mail to: webinarlink(at)milestonebrand(dot)com .
About The Milestone Brand
The #1 Global Brand for Maximizing Human Performance and Potential. their team consists of some of the most gifted leaders, administrators, teachers and encouragers that have improved the lives of millions worldwide. We utilize many platforms to educate and train humans about how to utilize the power they have inside of themselves to positively impact their work, their families and the communities they serve.
About Derrick Miles
Devoted husband and father to two sons, business executive, leader, Chairman and CEO of the #1 global brand for maxmizing human performance and potential--The Milestone Brand, Derrick Miles fully operates in his gift of encouragement. Miles' decade-plus experience as an healthcare executive allowed him to fully develop his gift, and now share it with the world. To learn more, visit http://www.milestonebrand.com .
# # #
P R Communications Group, LLC is a boutique public relations and marketing firm specializing in multi-cultural markets. The firm serves a variety of clients in the literary, small business, music and green industries.