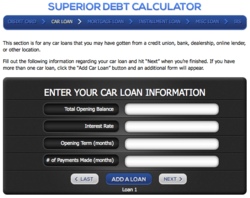 Fort Collins, CO (PRWEB) May 14, 2013
SuperiorDebtRelief.com, an online debt consolidation and credit counseling service, recently announced an innovative solution to help people take control of their debt and better understand their current financial standing with an online debt calculator. The tool focuses on all kinds of debt, including mortgages, student loans, and everything in between.
"We've wanted to create something to help all of those people out there struggling to manage their debts like car payments, mortgages, and student loans because we know just how stressful it can be to have outstanding debts," said a representative from SuperiorDebtRelief.com. "It's our job as a debt consolidation firm to find ways to improve our clients' debt and credit problems, which is exactly what we hope this powerful new tool will help them to accomplish."
The debt repayment calculator is an easy-to-use tool that anyone can use to check his or her finances and repayment methods. After filling out each section with the appropriate information, results in the form of graphs visually outline all aspects of the user's personal debt.
The tool is touted as "the fastest and most effective way to learn about your debt, interest rates, and other facts about your payment record and the future of your debt."
About SuperiorDebtRelief.com:
SuperiorDebtRelief.com began in 1998 with the mission of helping people take control of their debt with consolidation and credit counseling. Each employee is certified through the Arbitrain Training System and the International Association of Professional Debt Arbitrators. For more information about debt relief and taking control of your personal finances, feel free to visit them on the web at http://www.superiordebtrelief.com/.