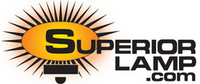 Mt. Laurel, NJ (PRWEB) December 16, 2008
Superior Lamp Inc. adds a new L.E.D fixture onto their eco-friendly product distribution list. Superior Lamp is a market leader in providing heavy duty industrial lighting for commercial use which caters towards helping the environment. These new L.E.D exit fixture retrofit kits last longer and require much less maintenance than past designs.
These new Superior Lamp L.E.D's come with a 30 year guarantee and are the longest lasting L.E.D's on the market today. With energy costs on the rise and the environment paying the price this new lighting option will be a choice that many business owners will eventually need to take. Each L.E.D comes with a built in surge protector for even further protection to keep businesses lit and running year round. This new lighting product was designed so that owners get at least 30 years of life out of each bulb. Each one guarantees a 99% reduction in labor and includes two L.E.D's and replaces close to 240 incandescent bulbs. The technical numbers on this new product are amazing as well. With a 94% reduction in energy these new L.E.D's are great for the environment. Superior Lamp has become an advocate for environmentally friendly lighting products and has made a significant effort to play their part in preserving the environment. With this new product 2.4 watts replaces 2-20 watt incandescent bulbs providing an ultimate energy and cost savings that can be passed down directly to your pocket or bottom line. These new L.E.D's are extra bright, brighter than most standard L.E.D's. They come with a thirty year rating and run 94% cooler than most incandescent lighting. Each Kit saves approximately $46.67 per year. That's adds up to an amazing amount of savings!
With all companies cutting costs and the environment as a concern many of Superior Lamp's products can helps businesses large and small cut back on energy costs while helping the environment. For businesses which require a great deal of lighting in their facilities and office buildings many of the products which Superior Lamp distributes and markets could be the answer to help struggling businesses in today's economy by keeping costs down. Every penny counts these days and if a company is looking to save money long term and keep their business growing than they must look at every possible corner to save spending. Superior Lamp is consistently adding new products onto their distribution list that helps and cares for the environment. Superior Lamp has been doing this for over thirty years and continues to stand apart from much of their competition by taking this approach.
For more information on how Superior Lamp can help you please visit http://www.superiorlampinc.com or call 1-800-257-8353.
Tom Mosher
Personnel(at)superiorlampinc.com
800-257-8353
Tom Mosher is the director of marketing and sales for Superior Lamp Inc. which is the #1 supplier of HEAVY DUTY industrial lighting. They proudly display the Better Business Bureau's prestigious Torch Seal for excellence for offering "green" lighting for industrial and commercial uses. For more information please visit Superior Lamp and take a look at how their products make the planet a better place.
###