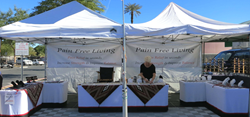 We are excited to begin embedding Schumann frequency in magnetic jewelry
Tampa, Florida (PRWEB) September 21, 2013
Pain Free Living web: SuperiorMagnetics.com, a veteran in the pain relief industry is excited to announce Superior Magnetics has acquired an instrument to embed Schumann Frequency carried on scaler wave technology in magnetic jewelry. Many people report benefits from bracelets embedded with Schumann frequency.
"We have 12 years of hands on experience relieving pain with magnetic bracelets at fairs and festivals" explained Shu Arvilla of SuperiorMagnetics.com, "we are excited to begin embedding frequency in magnetic jewelry. For those unable to visit us for a demonstration with our frequency embedded magnetic jewelry visit us online at SuperiorMagnetics.com."
For information on the new magnetic bracelet, go to: http://www.superiormagnetics.com.
What is magnetic jewelry and what are the magnetic jewelry benefits?
Magnetic jewelry is a therapeutic piece of jewelry, worn for the benefits the magnetic field can offer. According to William Philpott M.D. in his book, Magnet Therapy: An Alternative Medicine Definitive Guide, the North Pole magnetic field has the following effect on living metabolic systems: "it provides oxygen to the cells"; "it relieves, stops pain and other symptoms", as pain is usually a symptom of an imbalance in pH and/or inflammation of the area; "it normalizes acid and alkaline balance," sore or stiff muscles, chemical hypersensitivity and many disease states are highly acidic. Magnetic bracelets are being used successfully by many people for pain relief of inflammatory conditions such as arthritis, tendinitis and bursitis.
What is Schumann Resonance Frequency?
Schumann resonances are global electromagnetic resonances, excited by lightning discharges in the cavity formed by the Earth's surface and the ionosphere. Living beings evolved in this natural electromagnetic environment and live in harmony with it because the Earth has been surrounding all living things with this natural frequency pulsation.
Many experts believe that the wide spectrum of artificial man-made EMF radiation masks the natural beneficial frequency of the Earth. Electro pollution may cause us to feel more stressed, fatigued and "out of balance." Laboratory research has shown that exposing living cells to the Schumann Resonance had beneficial effects when exposed to ambient EMFs, allowing the cells to increase their immune protection, and decrease the absorption of depression-inducing chemicals. By replicating the Earth's natural rhythm, we may be providing ourselves (at least in our immediate vicinity) with a more healthy environment.
About SuperiorMagnetics.com magnetic jewelry for Pain Free Living
Pain Free Living has used magnetic jewelry to relieve pain for 12 year at fairs and festivals. This new frequency embedded magnetic jewelry will be available online at SuperiorMagnetics.com.
Contact Superior Magnetics for Pain Free Living magnetic jewelry
Web: http://www.superiormagnetics.com
Tel: +1 909 336-7514