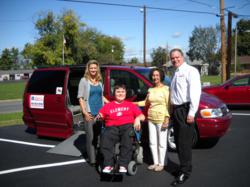 Louisville, KY (PRWEB) October 11, 2011
Superior Van and Mobility has long been known for their commitment to ensuring that those with physical handicaps have access to the mobility solutions they need for freedom and a high quality of life. However, the dealership has joined local community members to go above and beyond in the case of Blake Bullis.
Blake, a local high school graduate, suffers from Duchenne muscular dystrophy, which makes it impossible for him to get around without a wheelchair. As part of his treatment, Blake recently underwent spinal fusion, which actually made him three inches taller than he was previously. While this might not seem to be a problem, it did create serious issues with the family's old wheelchair van. Blake was now too tall to get into and out of the van, but the family could not afford to purchase another handicap van.
Friends of the family immediately took up the challenge of raising money to help Blake and his family. On learning of Blake's difficulties, Superior Van & Mobility went on a search to locate the perfect van for the family. Their search was fruitful, and the company actually located an ideal model for Blake. However, committed to going that extra mile, Superior Van and Mobility also donated the Q'straint tie-downs for use in the van so that Blake could travel in safety.
The family is very moved by the compassion and care shown by their friends and family, the greater community and especially by Superior Van & Mobility.
To find out more about the wheelchair van models and mobility equipment on offer at the dealership, visit http://www.SuperiorVan.com.
About Superior Van & Mobility: Superior Van & Mobility was founded for one reason alone – to provide their customers with the highest quality mobility equipment and vehicles on the market. Through their dedication, compassion and innovative products, the dealership has made significant changes for the better in the lives of their customers.
###