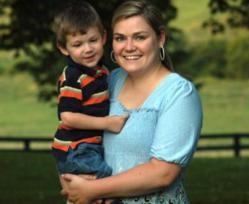 (PRWEB) May 03, 2012
Kristen DeLuca prayed for a healthy child all through her pregnancy. When her son Connor was diagnosed with Spinal Muscular Atrophy (SMA), Type 3, at two years old, she didn't fall apart or give up. She decided to make sure his life was as full and as normal as possible. This disease causes muscles to slowly weaken and die away, and while he will still probably have a typical life span, it will be filled with difficulty. Kristen tries to teach Connor that all people have "something that is hard for them," and his challenge is simply one that is more visible than others.
At five years-old, Connor uses a power wheelchair for mobility. Kristen researched the chair that would best meet his needs, and when the equipment provider told her insurance would never cover it, she fought to get the chair approved, even involving her congressman, until ultimately she made it happen. Kristen refuses to say "my son just can't do it" and instead consistently asks "how can I make my son a part of that?" For transportation, their family currently uses a manual trifold ramp to drive the chair into their 2002 minivan that currently has 150,000+ miles.
In April, Kristen and Connor's story was entered into a Local Hero contest that is being sponsored by NMEDA (National Mobility Equipment Dealers Association) and part of National Mobility Awareness Month. The grand prize is one of three Wheelchair Accessible Vans that will be awarded during the month of May based on the number of votes received from friends, family and the public. To vote for Kristen and Connor's story, please visit this link http://www.nmeda.com/mobility-awareness-month/heroes/kentucky/louisville/522/kristen-deluca.
Superior Van & Mobility, a Louisville based mobility dealer with locations in Louisville and Lexington, KY, Indianapolis, Fort Wayne, South Bend, and Evansville, IN, and Knoxville, TN is an active member of NMEDA. To help raise local awareness about National Mobility Awareness Month, they are sponsoring numerous events throughout May as well as helping to promote the Local Heroes in the cities they serve. Please visit their website to learn more about the Free Van Contest, and the events and giveaways they are sponsoring in Kentucky, Indiana and Tennessee (http://www.superiorvan.com).
About National Mobility Awareness Month:
National Mobility Awareness Month is the inaugural May celebration that encourages people with disabilities to enjoy active, mobile lifestyles. Founded in 1989 as a non-profit trade association, The National Mobility Equipment Dealers Association sponsors the awareness month with the assistance of more than 600 mobility equipment dealers, manufacturers and driver rehabilitation specialists dedicated to expanding opportunities for people with disabilities. For updates on the awareness month and local heroes overcoming mobility issues, please visit NMEDA's Facebook, Twitter, or website.
About Superior Van & Mobility:
Superior Van & Mobility is dedicated to providing persons with disabilities the most innovative mobility solutions on the market. Celebrating its 36th year of serving the disabled community, Superior provides lowered floor minivans, mobility seating options, hand controls, Scooters and Wheelchair Lifts, and a variety of other driving aids, all of which meet Federal Motor Vehicle Safety Standards (FMVSS). Superior Van & Mobility has seven locations throughout Indiana, Kentucky and Eastern Tennessee and also offers equipment training for all of its products. For more information, visit http://www.superiorvan.com.