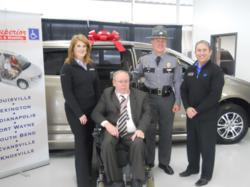 Louisville, KY (PRWEB) December 28, 2011
The Kentucky State Police and Superior Van and Mobility have worked together to provide an officer disabled in the line of duty with recognition for his heroism and a big surprise – a new wheelchair van.
During an undercover bootleg buy in 1972, Trooper Glen Franklin was shot twice at close range, suffering severe injuries. The young man had only been a member of the KSP for 10 months and the injuries he sustained left him confined to a wheelchair for the next 40 years.
On October 7, 2011, the Kentucky State Police began a fundraising program to benefit Franklin and his family. Through an immense outpouring of support and care, the KSP raised more than $40,000. They contacted Superior Van and Mobility to help and the dealership gladly leapt at the chance to be part of the effort, offering a hefty discount; Honda even chipped in a rebate on the wheelchair van, providing Franklin with a 2011 Honda Odyssey handicap van fully equipped with mobility equipment.
The new wheelchair van was presented to Trooper Franklin at an award ceremony during which he also received the Guthrie Crowe Award. More than 160 spectators turned out to honor Franklin and his heroism. The wheelchair van was unveiled after the presentation of the award, and was a complete surprise to Franklin. The remainder of the funds generated through the fundraising campaign were given to Franklin and his family, and numerous other donations were conveyed, as well. BraunAbility donated a new GPS system for the van, and other donations included automotive services, box seats to a Cincinnati Reds game and much more. It was a fitting ceremony for an officer who showed such heroism in the face of danger.
To find out more about the wheelchair vans, wheelchair lifts and Superior Van and Mobility in general, visit http://www.SuperiorVan.com.
About Superior Van & Mobility:
Superior Van & Mobility was founded for one reason alone – to provide their customers with the highest quality mobility equipment and vehicles on the market. With seven locations, the company provides comprehensive service and care for customers throughout the Southeast.
# # #