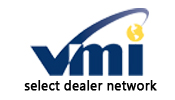 (PRWEB) December 19, 2011
Superior Van & Mobility has released they've teamed up with the VMI SDN (Select Dealer Network), to take advantage of the impressive organization built by VMI through Mobility Sales.com.
The Select Dealer Network is a cutting-edge initiative created to help VMI dealerships share their resources and create a main website through which customers can reach each dealership in the organization. The domain chosen for this is MobilitySales.com, a site with a proven history in the mobility industry.
Through MobilitySales.com, Superior Van & Mobility will receive a specific target area for marketing handicap accessible vehicles and mobility merchandise. This allows more efficient spending of online marketing funds, and permits dealerships to get their name before a new market.
In addition to greater marketing strength and a significantly increased internet presence, Superior Van & Mobility receives education in managing online customer leads, and how to record leads through the effective distribution system.
The Select Dealer Network has been immensely effective in a short period of time-- established in 2008, the SDN has helped to accrue significantly higher numbers of purchasing consumers than what any participating dealership experienced before its formation.
The SDN allows taking part mobility dealers an opportunity to build a mutual understanding into business issues, as well as enhance partnerships within the industry. Dealers are also able to enjoy a solid voice within VMI (Vantage Mobility International), as well as open, honest conversation within a convenient communication forum.
Superior Van & Mobility is America's premier supplier of new and pre-owned accessible wheelchair vans and mobility equipment. As a fully authorized dealer for Vantage Mobility International mobility products, Superior Van & Mobility offers a great selection of the VMI Northstar, VMI Summit, and VMI E-Series handicap van.
Superior Van & Mobility is very thrilled about belonging to the Select Dealer Network, and expects a rich, mutually advantageous partnership with all member dealers.
About Superior Van & Mobility: Superior Van & Mobility is celebrating its 35th year of handicap vehicle and wheelchair van sales to customers in the Kentucky, Indiana and Tennessee areas.
###