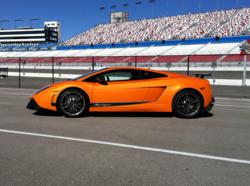 "The Superleggera was the missing link to the fleet at Exotics Racing. Now there is a supercar for every driver out there." David Perisset CEO
Las Vegas, NV (Vocus/PRWEB) February 20, 2011
For the first time in the United States the general public will have the opportunity to get in the driver's seat of the new Lamborghini LP570-4 Superleggera and race the 1.1 mile inside road course at Las Vegas Motor Speedway, which is located conveniently just a few miles north of the Las Vegas Strip. The new supercar is considered by many to rival the Ferrari 458 Italia.
The LP570 is a lightweight, more powerful and track focused version of the Gallardo LP560-4 supercar. Carbon fiber is used extensively inside and out to reduce its weight to only 2,954 lb (1,340 kg) - enough to make the LP570-4 the lightest road-going Lamborghini in the range. The 5.2-liter V10 engine produces 570 horsepower, and can travel from zero to 100 km/h (62 mph) in 3.4 seconds, up to a 202 mph (325 km/h) top speed. The Ferrari 458 Italia suddenly has a lightweight competitor on the track!
The engineers had a weight-to-power ratio target of 2.35 kilograms (5.18 lb) per HP which was achieved with hi-tech competence and aesthetic flair. The engine also boasts an impressive degree of efficiency. Its fuel consumption and CO2 emissions have been reduced by 20.5% compared to the previous model. The supercar also features exterior modifications as well. The designers were able to increase aerodynamic effects by working closely with wind tunnel experts which resulted in modifications to the front bumper. The new design increases the supply of cooling air and improves the down-force on the front axle.
With Exotics Racing's acquisition of the new Superleggera, it joins its predecessor supercars the Murcielago LP640 and Gallardo LP560 among the Las Vegas racing school's options. In addition to the Lamborghinis, Exotics Racing offer driving experiences in the Ferrari 458 Italia, F430 F1, 430 Scuderia, Audi R8, Aston Martin V8 Vantage, Nissan GTR as well as the Porsche 997 Carrera S. For those individuals brave enough to sit shot-gun, there is also the optional drifting ride-along experience in a race ready 505 horsepower Corvette Z-06.
About Exotics Racing
Originally founded in Europe in 2004, Exotics Racing has been operating in Las Vegas, NV and Fontana, CA since 2009. Accessible to all, the racing school offers individuals the opportunity to drive today's most amazing supercars with professional racing instruction on a real race track. The program integrates classroom education, familiarization laps and real-time right seat instruction into one comprehensive, safe and exciting driving experience. Details for the racing school can be found on http://www.exoticsracing.com or by calling (702) 405-7223.
###