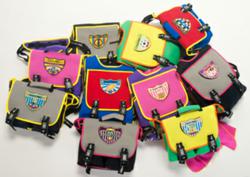 SuperME combines the functionality of backpacks and messenger style lunch bags with the fun of superhero dress-up play, letting children uncover their inner super-hero.
San Mateo, CA (PRWEB) August 07, 2012
In a world filled with commercially branded superhero products, SuperME encourages and celebrates self-expression and creativity by putting children in the role of super-hero. The product's innovative design features interchangeable, shield-shaped patches, allowing children to express their many 'super-hero selves' in a fun new way. Inspired by Boy and Girl Scout patches, SuperME patches can be a great way to celebrate and recognize a child's accomplishment, such as learning to swim or scoring a goal in soccer.
SuperME has three product categories: cape backpacks, messenger bags, and patches.
Cape backpacks (MSRP $45) -- The cape backpack combines sleek, stylish backpack and fun superhero cape that comes complete with a coordinating superhero eye mask. The superhero cape is stored in a hidden zipper pocket when not in use. Pulled out, it drapes heroically over the backpack. In either form it is an eye-catching backpack sure to inspire pride in those who are wearing it.
Designed for functionality and comfort, these cool backpacks include thoughtful features such as a mesh backing to keep little backs cool, and pockets inside to keep things organized. Backpacks are sized for preschoolers and young children.
Messenger-style lunch bags (MSRP $35) -- The 2-in-1 messenger bag converts into a satchel bag by removing the shoulder strap, and transforms into a superhero utility belt. These stylish bags include a shoulder pad for comfort and feature two outside pockets sized to fit standard water bottles, and inside pockets to keep things organized. It is ideally suited for carrying lunch and other daily essentials. Messenger bags are sized to fit preschoolers to tweens.
SuperME patches (MSRP $5) -- The patches, which work with both bag styles, reflect a variety of interests and hobbies. Accomplishments and interests like swimming, soccer, race cars, exploration, rocker and pirates and more can be recognized and rewarded with each SuperME patch.
SuperME products are designed in San Francisco, and manufactured to the highest quality standards in Taiwan at ISO 9001 certified, family-owned and operated factories. The backpacks and messenger bags are made of machine-washable EVA (ethylene vinyl acetate). EVA is a safe, highly durable, flexible, water-resistant, naturally insulating material, keeping cold thing cold and warm things warm.
Both bag styles are available in five color combinations- red/blue/yellow, pink/purple/yellow, black/silver/pink, black/silver/yellow, and yellow/green/orange. SuperME bags and patches are available online at http://www.supermehero.com
SuperME is a San Francisco based company created by two SUPER moms: Daphne Kaufer and Rena Stern. The inspiration for SuperME came from their children, who love dressing up and carrying their own bags to school, parks, day trips, and vacations. Daphne and Rena wanted to create functional products that are fun to play with and reflected the uniqueness of each child.
About the founders:
Daphne Kaufer has a BA in architecture from the University of Cardiff, Wales and AA in footwear design from FIDM Los Angeles. Her design inspiration comes from thinking of ways everyday products can look just a little different. Daphne lives in San Francisco with her husband Ram and their two children. Daphne previously had a successful children's footwear line called DaphDaph SF, known for its high quality shoes and innovative design.
Rena Stern grew up in California and spent several years living in Sydney, Australia. She has a BS in Finance from Santa Clara University and an MBA from University of California-Berkeley. She previously worked for a number of premier companies including Arthur Andersen, Sun Microsystems, Johnson & Johnson and Cochlear. She lives in San Francisco with her husband Barry and their two children.
For more information, contact Rena Stern at rena(at)supermehero.com.