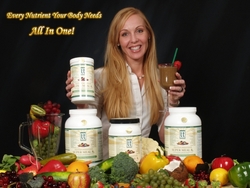 Many companies want to concoct the healthiest product but fail to realize its longevity might depend on someone actually liking it
Tampa, FL (PRWEB) August 27, 2009
If one scours the shelves of supermarkets and even health food stores-it is unlikely that even the most ardent consumer can come near the nutrient density of THNN Inc.'s new formulation of its popular Super Meal Rx, an amazingly healthy meal replacement. And for those sick of hydrogenated fats, high glycemic nightmare foods, flooded with both labeled and unlabeled food additives-preservatives and food dyes-is it possible that a true http://www.supermealrx.com/New-Product-Information-203.html meal replacement could not only improve nutrition, but actually be a taste treat to be coveted?
So even if you are promoting healthy food for your family, you really don't want your kids to tell you that new green drink tastes entirely like mud. It just doesn't seem fair to make them drink something that you think should be laid to rest in a cow pasture, where at least some type of sentient being would actually enjoy it.
"Many companies want to concoct the healthiest product but fail to realize its longevity might depend on someone actually liking it," says Faith Vinson, President and CEO of THNN Inc, a transformational nutrition company based in Tampa. "Super Meal Rx is 100% all natural and organic, with a delicious taste. We want people to enjoy it."
"The actual taste of the New Super Meal Rx involves delicious berry and all natural chocolate, with a subtle blend of vanilla and mango. It's smooth, very palatable, and mixes into an instant smoothie".
Super Meal Rx is a nutrient dense, all natural, organic whole foods based meal replacement with no compromise of sugar. Providing the broadest spectrum of phyto-nutrients, 100% RDA of vitamins and minerals, complete plant protein amino acids, rich plant and fruit extracts, fiber, essential fats, herbs, enzymes and probiotics.
The synergistic effect of the combination of the 160 ingredients has caused Super Meal Rx to outdistance all competitors. It's the best fusion of berry and green food complex ever. New Super Meal Rx is patently the most powerful, highest antioxidant and complete nutritional food in the world.
Mama, is this stuff really good for me, too?
Super Meal Rx offers three sizes-1320g, 660g, or 440g packages.
SUPER MEAL RX is available at http://www.supermealrx.com and at various independent retail and health food stores. Wholesale inquiries are welcome at customerservice (at) supermealrx (dot)com. Founder and CEO, Faith Vinson, is available for media interviews by appointment. For more information, call 1-866-949-MEAL (6325).
About THNN Inc
U.S. based Transformation Health Nutrition Naturals Incorporated (THNN Inc) is one of the fastest growing wellness company in the USA and is a leading formulator of high-end quality superfood nutrition wellness products.
Contact: John Star
Chief Communications Officer - THNN INC.
1866 949 6325
###