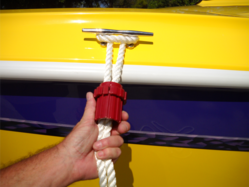 Even my 8-year old son can secure our boat to the dock with this device. I bought 8 of them just for the boat.
Brentwood, TN (PRWEB) July 13, 2012
Ever needed to secure something with rope and can't tie a good knot? What about having to tie 3 or 4 ropes together, and the ropes are all different sizes? Needless to say, this can be a very frustrating task. Solve this problem by surfing over to http://www.HomeDepot.com and picking up some Super Rope Cinch's, and "Say No to the Knot!"
In June of 2011, Just Right Products LLC launched their Super Rope Cinch device into retail. Since that time, it has been gaining new retail outlets and distribution channels at a pace faster than most other new products. The simplistic device allows anyone to secure multiple ropes (of any size up to 5/8" in diameter) with just a twist. Simply insert the ropes and twist. That's it - your ropes are now secure.
Perhaps the best part about the Super Rope Cinch is UNTYING ropes. Ever tried to untie a wet knot? How about a knot with 4 or 5 ropes involved? The Super Rope Cinch handles all of this in a snap. Simply press the release button and the Super Rope Cinch lets go of the ropes. Easy. You can even splice a nylon strap with a piece of rope. How's that for innovative?
Drew Bourke, Just Right Products LLC VP, had this to say regarding the quick launch into retail:
"We feel very fortunate to see this type of immediate acceptance in retail. I think the high sales volume has been due to the fact that it (the Super Rope Cinch) solves a very common problem, is extremely affordable, and is manufactured right here in the USA. Home Depot is a perfect fit for the Super Rope Cinch, since they sell so much rope."
As of July 11, 2012, the Super Rope Cinch is available at over 12,000 retail stores in the U.S., with more locations being added daily. With current distribution from some of the largest stores/distributors in the U.S. (Do it Best, Orgill, Home Depot, etc...) and attention from distributors around the globe, you're sure to see the Super Rope Cinch in the very near future at a store near you. Look for it at your local Home Depot, or visit HomeDepot.com.