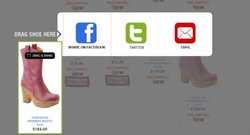 Twitter is the only platform that allows us to simultaneously teach, engage, entertain and converse with customers while exposing our brand and products to their entire social networks…in real time.
Andover, MA (Vocus) June 3, 2010
Online footwear retailer SuperShoes.com held the first ever known games of twitterbingo in early May to promote its new Drag & Share feature. Modeled on the classic game, twitterbingo challenges entrants to Drag & Share the five products on the site with hidden messages representing each of the 5 letters in "BINGO." Explaining the choice of Twitter to introduce Drag & Share to its customers, Frank Malsbenden, VP, General Manager Vision Retailing explains, "Twitter is the only platform that allows us to simultaneously teach, engage, entertain and converse with customers while exposing our brand and products to their entire social networks…in real time". During two separate games of twitterbingo spanning less than two hours combined, the site tracked close to 300K impressions containing its brand name, almost half of which contained direct links to its site.
SuperShoes.com launched a new Drag & Share function on its show all pages in February, 2010. The feature allows customers to hover over any product image on a show all page, then drag and drop it and its corresponding link information into their choice of Facebook, Twitter or Email, which appear as icons over a blacked out screen. When looking for a way to promote the feature, Twitter quickly became the best option. Explains Malsbenden, "Because there is an instructive element to the new functionality, we quickly zeroed in on Twitter since it offered us two-way communication with our customers in real time. We taught followers how to use the feature step by step, answered any questions immediately, and then let them practice the new skill in the context of a game. The game Bingo was a natural fit because it requires a Master of Ceremonies, and in this case we could act as the MC."
Prior to the launch of the game five shoes were selected by the team, each on a different show all page of SuperShoes.com. Programmers then modified the default message that appeared for these five styles when dragged into Twitter so that each contained a product page link and a message that declared them to be one of the five letters in B-I-N-G-O. For example, the default message for the first secret shoe read " I'm playing #twitterbingo w/ @supershoes_com. Want an athletic style 4 summer? This "OPEN-BACK" reps the letter "O"! http://bit.ly/cUXiCI." Entrants were shown how to use the Drag & Share feature and were then directed to each show all page in succession. The team kept entrants engaged by dropping hints throughout the hour-plus game to help them zero in on the correct shoes. "Once they understood how to use the new feature, we just sat back and watched the tweets fly" says Malsbenden.
While the goal of the game was to introduce Drag & Share, the team leveraged the opportunity to gain impressions for its brand and its products. "Because every Tweet from a promotion entrant contained links to our site, we not only extended the reach of our message and our brand, but ensured we saw residual activity on the site for a period of time after the game had ended," says Malsbenden. Malsbenden feels this is another example of how Social Media is transforming e-commerce, and how beneficial it is to integrate Social features into an existing e-commerce site. "99% of websites need to be rebuilt in order to fully leverage Social Media. Our Drag & Share feature is just a simple example of integrating Social Media into an existing e-commerce site, and the results of the twitterbingo rollout was jaw-dropping to me. I don't need to see another study or read another white paper to see the power of Social Media, I've seen it for myself."
About SuperShoes.com
SuperShoes.com (http://www.supershoes.com) is an online retailer specializing in women's shoe brands including Clarks, Naturalizer, Skechers and BOC. It is a wholly owned subsidiary of parent company Vision Retailing Incorporated, an e-commerce consulting company based in Andover, MA. An experienced e-tailer committed to innovation, Vision Retailing owns online properties Shoeline.com, SuperShoes.com and AddingtonFalls.com and has consulted a number of high end Department Stores, brick and mortar retailers and consumer goods manufacturers including GEOX, Born Footwear and Sofft Shoe Company.
For More Information:
Mary Jane Mellet
Office: 978 933 4843
Cell: 203 536 6071
###