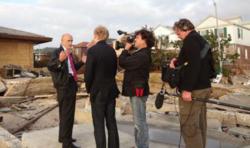 Be especially suspicious of assignments of insurance benefits without the policyholder's name being included on the check
Tampa, FL (PRWEB) December 26, 2012
Property Loss Consultant and Public Insurance Adjuster Charles R. "Dick" Tutwiler and his firm Tutwiler & Associates have handled insurance claims in every big storm since 1984. Two months into helping Superstorm Sandy policyholders file insurance claims, he shares a holiday wish list regarding some of the most pressing issues he sees related to properly settling Superstorm Sandy claims:
1. I wish the out of state adjuster that is now assigned to the files returns from a well deserved break with their family for the holidays to finish their adjusting job for the property owner. Reassigning files to new or replacement adjusters can result in claim delays and at worst lost file material.
2. I wish the insurance company adjuster, public adjuster, contractor of choice for the property owner and the supervisory claim manager all quickly agree on the scope of loss and fair market price of the scope of work to be completed to restore the property and issue checks so repair work can get underway.
3. I wish that any coverage issues that may be interpreted as ambiguous in the insurance policy as it relates to the facts of the loss be resolved in favor of the policyholder. The customary practice and procedures of adjusting first party insurance contract claims as well as in the law allows for ambiguity to be settled to the benefit of the policyholder who had the insurance loss.
4. I wish flood adjusters will review their definition of a basement if they feel the policyholder is not entitled to full coverage due to any unusual construction detail in the damaged home. Flood policies are pretty clear on the definition of a basement. If in doubt, talk to a General Adjuster with NFIP before denying a claim because of a misunderstanding about a construction type or detail you are not familiar with.
5. I wish all policyholders who have experienced storm damage take the time to learn some basics terms of their insurance policy as well as the accepted practice and procedures of the adjusting process. Remember, adjusting is an art form. It is not a science. Policyholders are supposed to have a real voice in the claims process. Most situations where coverage is afforded is negotiable as to both the scope of the loss and the price of that scope.
6. I wish all policyholders will take the time or retain competent professional help to fully document their losses and not stop at some dollar figure they think is all they need to get paid their insurance policy limits. Policyholders may have other coverage they are unaware of and there may be tax benefits for uninsured casualty losses that need to be discussed with a tax advisor.
7. I wish property owners will take the time to read and fully understand any contracts they sign for re-construction and repair work. Be especially suspicious of assignments of insurance benefits without the policyholder's name being included on the check as well as open ended contracts that may financially obligate the policyholder beyond their insurance settlement.
8. I wish communal living properties such as condominiums and co- ops establish a leader or committee to over see the adjustment process as well as the repair and replacement process. Ideally, this person needs a competent, experienced, public adjuster/loss consultant reporting the facts of the insurance adjusting process to them so they can coordinate the expected settlement with cost of repairs.
9. I wish business and homeowners who have experienced a loss from Super Storm Sandy realize that it will take time to property settle their claim. There is no need to rush a settlement, Those who are thorough gathering facts and presenting their claim in an organized professional manner will have a better claim experience and possibly a higher settlement. Property insurance settlements are all about documenting the damages related to what needs to be done to put the policyholder's property back in the place it was before the loss and also the cost to accomplish that function. Careful consideration needs to be given to the type of insurance coverage. Was it wind, water or possible a combination of both?
10. And finally, I wish those who have suffered a loss try and maintain some level of civility when dealing with the insurance adjusters assigned to their claim as well as others in their community, all of whom are trying to recover from this disaster. Remember the old saying you get more with honey than vinegar.
About Tutwiler & Associates: Established in 1984, Tutwiler & Associates is a highly regarded, licensed public adjusting firm that represents commercial and residential property insurance policyholders in all property insurance damage claims. Tutwiler works exclusively for the policyholder to remove the stress of dealing with the insurance company and properly present their insurance damage claim to obtain a fair payment under the policy. Headquartered in Tampa, Florida Tutwiler is also licensed in New York with an office in Lido Beach, Long Island. They can be reached locally in the New York area at 516-415-1235 or toll free at 1-800-321-4488. http://www.publicadjuster.com