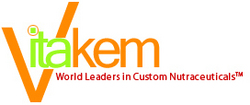 The industry's reputation has suffered from the shoddy or dangerous products created by a few bad apples. The new federally-enforced cGMPs give us a chance to change that image.
Smithtown, NY (PRWEB) June 22, 2010
Leading contract supplement manufacturer, Vitakem Nutraceutical, Inc. today heralds the Food and Drug Administration's (FDA) final step in enforcing its current good manufacturing practices (cGMPs) for dietary supplement manufacturers supplying the U.S. market. On June 25, 2010, small nutritional supplement and vitamin manufacturers, those with less than 20 employees, are required to meet cGMPs. This is the final step in implementing a federal standard for nutritional supplement manufacturing practices.
"While plenty of manufacturers follow these protocols already because producing high quality, safe and effective products is their core mission, too many have cut corners and not put quality first," points out Vitakem President Bret Hoyt, Sr., "The industry's reputation has suffered from the shoddy or dangerous products created by a few bad apples. The new federally-enforced cGMPs give us a chance to change that image."
In 1994, the Dietary Supplement Health and Education Act (DSHEA) required the FDA to establish and enforce cGMPs. However, the FDA did not establish cGMPs until 2007. In 2008 and 2009 respectively, cGMP compliance enforcement began for large and medium-sized manufacturers. This June's requirements of small manufacturers mark the final stage. Many of these small companies use contract supplement and vitamin manufacturers to manage production and consequently are dependent on their manufacturing partner to meet the new requirements.
"Vitakem has been, for all practical purposes, following strict cGMP guidelines," explains Hoyt. Vitakem already applies written Standard Operating Procedures (SOPs) and protocols in their labs to insure quality control. And many of their employees are already familiar with cGMPs through their pharmaceutical background and Vitakem's long commitment to following GMPs.
"Other than some fine tuning of some of our labs SOP's," says quality assurance manager James Frahm. "The major change that Vitakem has undergone since the FDA implemented its cGMP guidelines has been in the analytical department. Our labs have purchased top-of-the-line analytical equipment."
Analysis is one of the key components of cGMP compliance. Raw ingredients coming into the manufacturing facility must be pre-tested for identity, strength, composition and purity. In addition to pre-testing of raw materials, manufacturers are also required to
§ Test final products;
§ Follow standard manufacturing processes to prevent contamination and maintain potency;
§ Keep written SOPs on file;
§ Regularly train key personnel on cGMP compliance;
§ Package products appropriately and use accurate labeling.
Small nutritional supplement manufacturers will face some challenges as cGMPs come into effect. Hoyt points out that the added cost of analysis required by the new regulations will increase the cost of production. And as nutritional supplement lawyer, Joel Rothman, noted in his January 2010 blog, "Companies that rely on contract manufacturing will receive a rude awakening as they are subject to regulatory scrutiny they have never previously experienced." Rothman, Hoyt and other industry experts predict that fewer small supplement companies will be around to see 2011 as a result.
For this reason, many small nutritional supplement companies are now looking to partner with a contract supplement manufacturer who is already prepared to meet these regulations. Furthermore, a good manufacturing partner may be able to help in cost savings through ingredient sourcing and more efficient production methods. Because of the specific needs of start-ups, Vitakem has created a division specifically devoted to helping very small companies get started.
Diana Pearson, recently partnered with Vitakem to start her supplement business. She says cGMP compliance and support in navigating the regulations were important criteria for her in choosing a contract manufacturing partner for her first venture in the nutritional supplement market. "The regulations around nutritional supplements were a big concern of ours," says Pearson, "Bret and his sales team were very clear and explained the new cGMPs to us. We dealt with many companies in trying to find a contract manufacturer and Vitakem educated us more than anybody. They made it so easy for us. If I had to do it all over again, I would go right back to Vitakem."
For more information about current cGMP requirements for small nutritional supplement companies or to find out about contract manufacturing services, please contact Bret Hoyt, Sr. at 800-233-2112 ext. 1 or visit http://www.vitakem.com.
About Vitakem Nutraceutical, Inc.:
Vitakem Nutraceutical, Inc., http://www.vitakem.com, has provided custom manufacturing for the nutrition industry since 2003. They provide start-to-finish services that include planning, formulation, production, packaging and labeling, design and order fulfillment. Vitakem's facilities meet current good manufacturing guidelines (cGMPs) established by the U.S. Food and Drug Association (FDA), the World Health Organization (WHO) and the European Union (EU). While Vitakem partners with a range of companies, they specialize in working with small, startup companies. For more information about Vitakem's services or to get a free quote, please visit http://www.vitakem.com or call 800-233-2112
Media contact: Bret Hoyt, Sr., Vitakem Nutraceutical, Inc. 800-233-2112 ext. 1
###