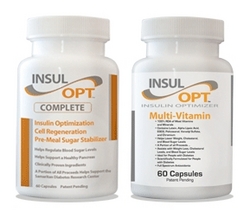 Left unchecked, Diabetes can adversely affect every tissue in the body
Tempe, AZ (PRWEB) January 14, 2009
Harvard/Stanford chemist Dr. Robert Foster's life changed when his 8 year old daughter was diagnosed with Juvenile Diabetes. Faced with the fact that 2 out of 3 diabetics die from heart disease or stroke, he created an herbal supplement that prioritizes cardiovascular repair, immune strength and cellular regeneration. As a result, diabetics can now effectively fight the most dangerous and common complications associated with Diabetes.
"Left unchecked, Diabetes can adversely affect every tissue in the body," says Dr. Foster. According to the ADA, trends indicate that one in three children born in the US today will develop Diabetes. A recent article in the UK Daily Mail stated that every three minutes someone in the UK is diagnosed with Diabetes. It is not hyperbole to state that Diabetes has reached epidemic proportions worldwide.
INSUL-OPT™ Complete contains all the glucose-stabilizing ingredients of the major leading herbal supplements for diabetics, including Chromium, cinnamon, alpha lipoic acid, gymema, fenugreek and vanadium. In addition, INSUL-OPT™ Complete contains an extremely high quality bovine Colostrum, which has been proven in thousands of studies to increase immune function.
Because the biggest health risk for diabetics is cardiovascular disease, INSUL-OPT™ Complete also incorporates a powerful "superoxide." The melon extract known as SOD/Gliadin is an antioxidant known to greatly reduce vascular inflammation. It also improves the diabetic body's ability to heal from minor wounds by assisting in cellular repair.
In order to improve the health of as many diabetics (and pre-diabetics) as possible, INSUL-OPT™ Complete is offering a $1.00 trial for a one-month supply. In addition, all customers will receive a free bottle of Diabetes Multi-Vitamins with every month's shipment of INSUL-OPT™ Complete. Though this is a new product, customers are already raving. To watch or read customer testimonials, click here: Testimonials from Real Diabetics
The natural remedies in INSUL-OPT™ Complete work together synergistically to support pancreatic health, insulin production and sensitivity, immune function, vascular repair, cellular regeneration and blood sugar stabilization. INSUL-OPT™ Complete is manufactured by Phoenix Food Industries in an FDA-approved facility using USDA Organic ingredients. Every bottle comes with a 100% satisfaction guarantee.
###