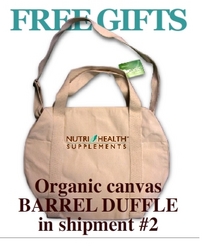 The new Doorstep Discounts program is our way of thanking our customers for their loyalty and for putting their health and the health of their family first and foremost. - Trish Mahon, Nutri-Health President
Cottonwood, AZ (PRWEB) September 1, 2010
For the past 20 years, Nutri-Health Supplements had offered consumers premium probiotic and natural supplement formulas at competitive prices. During the continued economic downturn, however, the company is going the extra mile to reduce costs on the consumer's most vital assets—health and wellbeing.
"For years, we have received wonderful feedback on how our supplements improve our customers' quality of life," says Nutri-Health President, Trish Mahon. "It is time to show our continued gratitude to both our current and our new customers by putting savings back in their pockets. I'm proud to say that Doorstep Discounts, our new customer recognition program, does just that."
"The current economy has affected all of us in so many ways," says Mahon. "But our health is precious and must be protected. The new Doorstep Discounts program is our way of thanking our customers for their loyalty and for putting their health and the health of their family first and foremost."
Built-in Monthly Savings
Doorstep Discounts is now offered on all of Nutri-Health's products, including its flagship probiotic formula, Flora Source® Multi-Probiotic; popular sinus health probiotic blend, Flora Sinus® Seasonal Support; and inflammation support product ArthroZyme® Joint & Muscle.
The Doorstep Discounts reward program provides monthly savings, convenient delivery, and free shipment gifts for existing and new Nutri-Health customers:
•An instant $10 discount on every product
•Free shipping and handling on these products for the life of the program
•Free gifts in every other shipment such as an organic duffle bag
"Our customers really depend on their monthly supplement shipments," says Jennifer McTurk, Customer Care Director for Nutri-Health. "They love the convenience of no-call refills and these extra savings are going to make so many people happy and healthy."
Long-Term Supplements Benefits
Doorstep Discounts, a continued customer support program, makes good sense for supplements, given the products' long-term benefits. Millions of people make their favorite supplements a permanent part of their daily wellness regimen, taking them faithfully for long-term health benefits.
"Our multi-probiotic product, Flora Source, shows increased benefit over time as consumers see the cumulative digestive and immune health benefits of adding probiotics to their daily diet," says Mahon.
"The same is true for Flora Sinus," she says, "which works with the body to help keep sinuses continuously clear instead of a short-lived 'quick fix.' ArthroZyme, our systemic enzyme that supports normal, low levels of inflammation, also works over time and is ideal as a long-term inflammation management supplement."
"The nutrients in quality supplements all have a cumulative effect," says Mahon. "And this is where the real value of a monthly savings program like Doorstep Discounts comes in. Long-term supplements users are rewarded not only with better health and convenience over time, but with increased savings as well."
The Doorstep Discounts program saves consumers $16.95 on each bottle (a $10 discount plus $6.95 shipping and handling). The typical customer will save over $100 every six months on this supplement plan and enjoy free gifts that also total over $100 in value.
The Nutri-Health Doorstep Discounts program is available on their full supplement line, including supplements for eye health, heart health, digestive health, memory health, natural detox and more.
For more information on Nutri-Health's Doorstep Discounts, visit http://www.doorstepdiscounts.com.
Look for Nutri-Health on Facebook and Twitter
###