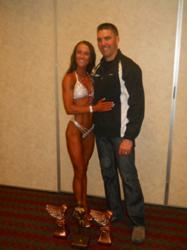 With all of the hardwork, dedication, hours of posing, preparation, long talks and coaching, the biggest BOOM of the night went to coach David Edgell as he was awarded and named the ABA/INBA/PNBA National Trainer of the Year.
Ogden, Utah (PRWEB) October 17, 2011
One year ago, The Body Evolution graced the ABA/INBA/PNBA Team USA stage, "Booming" up with the company's pre-workout drink and favorite supplement amongst athletes, BOOM! Power Rush and winning multiple classes and coming home with several competitors who went on to win the Natural Olympia. And on September 24, 2011 the Boom hit the Vegas stage even harder as Team Body Evolution led by owners Jason and Heather Hansen, coach David Edgell and INBA/ABA/PNBA Pro Captain Tyler Alexander marched right back into the scene with 9 excellent athletes who took the stage with a vengeance and Boomed their way to victory!
The Body Evolution brought nine elite athletes to the stage on September 24th and stole the show, literally exploding the ballroom with a "Big Boom" of greatness.
With all of the hardwork, dedication, hours of posing, preparation, long talks and coaching, the biggest BOOM of the night went to coach David Edgell as he was awarded and named the ABA/INBA/PNBA National Trainer of the Year. This award was given to him by Denny and Diane Kakos as he was recognized for his efforts, training methodologies and hard work in bringing quality athletes to the stage. Surrounded by his Body Evolution team, Dave gave an eloquent speech where he explained that bodybuilding is an "art form that can only be seen live, that photographs and drawings do not give it the justice it deserves." This award places David at the top of the food chain as the Nation's top National trainer in the Natural World of Bodybuiling and fitness.
At the ABA/INBA/PNBA Team USA Natural Bodybuilding Championships, it was all Team Body Evolution as Team Sponsored Athlete and Pro Amber "Rambo" Jones led the charge winning her second Ms. USA short figure open class and than moved on to battle for the Overall championship where she claimed what she wanted most…The Ms. Natural USA Figure Overall Title!
"I went into the show knowing that I put forth everything I could," says Team USA Overall winner Amber Jones, "I felt like everything came together at the right time. I had the entire Team Body Evolution giving me more support than anyone could ever imagine. My husband Clint Jones was there for me every step of the way, giving me 200% of his support and attention. I knew I was going up against top athletes who had worked there hardest all year for this. After placing 2nd to an amazing Figure Pro athlete in my first ever Pro Figure division. I did my best to stay confident and hoped to win my next division in the figure open, but to win the Overall was a dream come true. It was a proud moment for me and I was honored to have the Body Evolution team there to celebrate with."
With several improvements over the last year and a drum tight physique, Amber also competed in her first Pro class ever and was barely edged out on the scorecard to place second. Watch for Amber to dominate at the Olympia.
The night of domination started with a monster of physique and improvement from Tyler "The Animal" Alexander, who represented Team BE as the Team Captain and sponsored Pro athlete in the Pro Mens Division. Tyler rivaled the Worlds Best onstage bringing mores size than he ever has and showed why he is a Pro. He was as big as any Pro and presented a routine that was tuned to perfection. Tyler placed fifth in his "warmup show", as he calls it preparing himself for 6 weeks from now, where he will stand onstage in 100% form to dominate at the World Natural Olympia!
Jenni Braunberger showed up dialed to the gills, showing class and perfection as she battled a gorgeous Masters class where she took a solid second place. She also competed in the Figure tall class taking third place, ranking her as one of the top three nations best Natural Figure competitors going into the World Natural Olympia.
With muscle separations from head to toe, Jen Wilson stole the stage in women's bodybuilding winning the National Female Masters Overall Title and earning her Pro Card as she now becomes the Nation's #1 ranked Natural Masters Female Bodybuilder. She also competed in the Open class placing 3rd with a set of striated hamstrings that the judges could have played like a violin if they wanted to.
In the mixed pairs division, Ross and Jen Lunceford owned the stage with a routine that wowed the judges and the crowd, bringing everyone to their feet with applause. They won the entire class and were crowned the 2011 Team USA Mixed Pairs Champions. With this win, they moved on to compete in each of their other divisions. Jen placed 1st in Junior Masters and 4th in open as she showed a much improved and polished physique over previous shows. Ross competed and placed second in the Mens Masters class against years of muscle and held his own. He also placed third in the open class. One of the greatest accomplishments from the Luncefords is the fact that they have lost a combined 100 pounds over the last 18 months to prep for this show. "Winning the mixed pair division at the Team USA's was a high point for Jennifer and I," says Ross Lunceford, "It represented months of hard work and dedication. It was exciting to feel the energy of the crowd while we were on stage. The journey has been difficult but support from our Body Evolution team members has helped pull both of us through times when we were feeling low or ready to quit.The Body Evolution team has been indispensable in our journey to compete at a national level. We are still amazed at the transformations that both of our bodies have gone through to get us to this point. We have always exercised but we have never seen results like we have since we began taking the Body Evolution supplements." What an accomplishment to go from being out of shape and overweight to being named the most Fit Natural couple in American mixed pairs bodybuilding today.
In the open short class, there was more muscle than ever has been seen onstage as Chris Knight stepped on the stage with some men over 200 lbs. His legs, poise and battle mode would not backdown and put him right in the running for the gold in a tough and close class where he placed eighth.
Dustin "Mr. Boom" Biegenwald, showed a nice showing against a huge medium open class of 10 bodybuilders where he placed sixth against a class of freaks, proving that he can stand and compete on the nations biggest platforms.
When it comes to beauty and poise, Hannah McKinzie brought a power of both. Hanna took to the stages with an element of surprise as she competed in her second only competition ever. She stood in the Open Pro Bikini Diva division against a huge class of girls and was edged out only by one judges call to place second against the most winning Bikini Pro competitor of all time, Jodi Tiahrt. Hannah posed and competed with great poise and grace and was noticed by many as one of the great newcomers to the sport with the ability to win big! This ranks Hannah as the 2nd best Bikini Diva in the country leading into the Natural Olympia.
The owners of The Body Evolution Jason and Heather Hansen were onsite with their nutritional supplement line and team members Ben Turner, Amy Tams and MJ from MJ's Atomic Designs to help prep, coach and cheer on each athlete. Ben "Picasso' Turner did his magic backstage oiling and polishing each competitor to step on stage and Amy Tams was onsite for two days spray tanning and coloring each athlete with "Spray Tans by Amy." Mary Jane Snyder from MJ's Atomic Design, designed all of the suits for the show and was onsite to help complete fittings, and give the last touches to the suit. The Body Evolution would like to thank each of its athletes for their hard work, dedication and flat out bringing a Big Boom to the stages of Team USA Las Vegas. For the first time ever in the sport, a full lineup of training, posing prep, supplementation, coloring, suit design, and hair and makeup were all brought together for a national event. What a weekend, what a night and what a way to bring a big BOOM once again to the stages of Las Vegas.
The Team will now prep for the next 4 weeks in preparation for the 2011 Natural Olympia in Reno, Nevada on November 11, 12, 13th as they battle for the Gold against the World's best in the sport. Watchout for the big BOOM in Reno, Team Body Evolution will be ready.
For a limited time, visit http://www.thebodyevolution.com for your Free Sample of BOOM! Power Rush! Instant, insane energy, booming vascularity, massive pumps, and fantastic fat burning results.
###