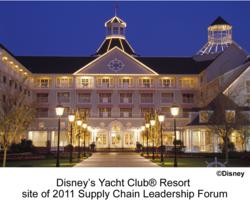 Raleigh, NC (PRWEB) May 26, 2011
Supply chain executives from leading global companies will benefit from the latest in supply chain and logistics education, unique opportunities to network and discuss trends with peers, and a private, behind-the-scenes tour of Disney's Magic Kingdom® Park at the Supply Chain Leadership Forum August 29-31, 2011, in Florida.
"This is our seventh year of hosting the Leadership Forum for benchmarking and best practices, and the event just keeps getting stronger," says Bruce Tompkins, Executive Director of the Supply Chain Consortium. "This year, we're focusing on supply chain uncertainty, green strategies, preventing cargo theft, fuel management, and of course, we always ensure that our members are aware of the core benchmarks for their industries."
Vice presidents, chief supply chain officers and other directors of top retail, consumer products, manufacturing, distribution and service provider companies will discover new ways to enhance supply chain performance and increase profitable growth.
Lee Beard, VP of Logistics at the Coca-Cola Company, attended last year's Leadership Forum in Dallas. "I get tremendous value out of the forum, particularly in learning the trends happening in supply chain now that are relevant for my peers in other industries," Beard says. "And I think the richness of dialogue in the sessions was especially helpful, as well as understanding what challenges to expect in the future with supply chain."
More highlights of the forum include:

A special kickoff event on Monday evening (August 29) focusing on the Top 11 Trends Impacting the Supply Chain.
An audience response-driven survey on Peak Season Planning and Execution.
Educational and networking sessions on topics such as Supply Chain Uncertainty, Tax-Efficient Supply Chain Management, and CSA Transportation Regulations.
A special behind-the-scenes supply chain tour of Disney's Magic Kingdom® Park with dinner and entertainment at Epcot®.
To register or learn more about the event, which is open to current and new members, visit: http://www.supplychainconsortium.com/Seminars/2011/overview.asp
The Consortium also has a LinkedIn group and Xing group for organizations that are interested in staying current on the latest in supply chain benchmarking and best practices.
About Tompkins Supply Chain Consortium
Tompkins Supply Chain Consortium is the premier source for supply chain benchmarking and best practices knowledge. With more than 500 participating retail, manufacturing and wholesale/distribution companies, the Consortium sponsors a comprehensive repository of 17,000-plus benchmarks complemented by search capabilities, online analysis tools, topic forums and peer networking for supply chain executives and practitioners. The Consortium is led by the needs of its membership and an Advisory Board that includes executives from Campbell Soup Company, Ingram Micro, Kraft Foods, Limited Brands, Miller-Coors, The Coca-Cola Company and Target. To learn more about how your company can become a member of the Supply Chain Consortium, contact John Foley, 919-855-5461 or visit http://www.supplychainconsortium.com
FOR IMMEDIATE RELEASE
MEDIA CONTACT: Keri McManus, 919-855-5516
kmcmanus(at)tompkinsinc(dot)com
###