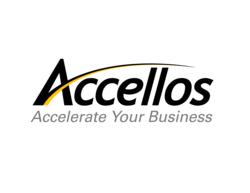 Colorado Springs, CO (PRWEB) July 18, 2011
Accellos, a leading provider of supply chain execution software solutions, today announced Accellos Visions 2011, its second annual series of regional user conferences.
Accellos Visions 2011 is designed to give supply chain professionals across North America the opportunity to join in educational sessions, networking opportunities and engaging dialogue with Accellos experts, customers and partners like Microsoft and Psion Teklogix. The event provides a forum for attendees to spend time face-to-face with their Accellos team, meet new colleagues with similar business interests in their area and industry, and learn how to drive even greater returns from current and future Accellos solutions.
The tour comprises five full-day events held in locations throughout the United States and Canada. This year the tour includes stops in Newark, NJ, Toronto, ON, Chicago, IL, San Francisco, CA, and Atlanta, GA.
The daily agenda includes educational sessions covering topics meaningful to Accellos' 3PL, Warehouse Management, Transportation Management and EDI customers and partners. The sessions will focus on profit-building strategies, industry insights, best practices, in-depth product information, technology road maps, and the vision for Accellos going forward. Speaking guests include Accellos top executives, product and brand managers, and representatives from Microsoft and Psion.
"We developed Accellos Visions with the aim of bringing together our customers, partners, and supply chain professionals from coast to coast," said Accellos CTO Ross Elliott. "Our attendees will have the chance to learn about how our latest products can help them drive ROI, hear expert speakers from Microsoft and other partners talk about topics like Cloud Computing and Mobility, and get a glimpse of Accellos' vision for the coming months and years. And the best part is that, rather than host a single event in one location, we will be bringing the show to our attendees."
Early bird special registration pricing for Accellos Visions 2011 is available until July 22.
Agenda:
http://www.accellos.com/library/documents/Misc/2011%20Accellos%20Visions%20Agenda.pdf
Registration information:
http://www.accellos.com/visions2011
For additional questions, call Tracy Reedy at 719-433-7022.
About Accellos
Accellos, headquartered in Colorado Springs, Colorado, is a global provider of logistics, warehouse, third-party logistics, transportation and mobile fleet management software solutions. The company addresses the supply chain management and execution market with warehouse management systems for multiple environments, including transportation management software and in-field mobile resource management solutions. Accellos' powerful supply chain execution solutions are easy to customize and implement, providing customers with more innovation for less investment. For more information, email info (at) accellos.com or visit http://www.accellos.com.
# # #