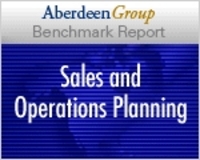 As an S&OP technology enabler, we understand today's parameters for S&OP success: frequent, integrated, collaborative and responsive
Ottawa, Canada (PRWEB) July 24, 2008
Kinaxis™ Inc., provider of the on-demand RapidResponse service that empowers multi-enterprise manufacturers with the integrated demand-supply planning, monitoring, and collaborative response capabilities required in today's complex and dynamic world, has posted access to the Aberdeen Group benchmark report entitled "Sales and Operations Planning: Aligning Corporate Goals with Supply Chain Tactics." A complimentary copy of the report can be accessed via the Kinaxis Web site.
Aberdeen surveyed over 300 supply chain, operations, IT and sales & marketing professionals involved in S&OP processes and technology solutions. The report aims to determine how the S&OP process is helping corporate executives accomplish their overall business strategy, and to identify current best practices and strategic actions for S&OP.
With executive teams looking at ways to more tightly link corporate strategy to S&OP execution, a clearer understanding of the cause and effect of daily operational actions is required. Given the volatility of the modern market, companies face unplanned events on a continuous basis that taken in sum, can materially affect company performance against corporate goals.
"No plan can be perfect," states Nari Viswanathan, research director, supply chain management, at Aberdeen Group. "The S&OP plans have to be looked at in terms of providing a baseline as well as a boundary within which the execution must take place. Any changes in supply chain tactics that are happening during the short term must be weighed against the overall S&OP plan." This means that planning must be coupled with a capability to monitor and respond to daily fluctuations in a way that ensures ongoing alignment with S&OP objectives.
Best-in-Class companies - identified as the top 20 percent of performers in the study - are achieving competitive advantages in this regard, as well as across a number of other factors of process, organization, performance measurement and knowledge management. For example, as compared to all other respondents, Best-in-Class companies are:

2.5 times as likely to be proactively alerted when they are no longer on track to meet S&OP objectives
More than twice as likely to have the ability to align the S&OP plan with the company's financial goals
Three-times as likely to proactively monitor daily performance against S&OP metrics
Twice as likely to have the ability to respond to unplanned events in a timely manner
Twice as likely to utilize statistical analysis and fact-based decision-making
Kinaxis is helping companies achieve Best-in-Class results by offering the key capabilities required to power S&OP processes within today's complex and dynamic market environment, namely:

Alerting: early alerting to consequences of unplanned events and/or decisions made elsewhere in the supply chain,
Management by Exception: the ability to drill down and identify the exceptions that cumulatively cause a particular KPI to exceed tolerance, thereby focusing users on the items that most require attention.
Scenario Management: quickly creating, sharing and evaluating multiple "what-if" action alternatives based on current MRP, MPS and demand data pulled from systems throughout the extended supply chain,
Financial Measures: expressing the results of scenarios as financial measures to rank and compare across multiple scenarios to ensure objective decision-making.
"As an S&OP technology enabler, we understand today's parameters for S&OP success: frequent, integrated, collaborative and responsive," says Randy Littleson, vice president of marketing at Kinaxis. "The Kinaxis RapidResponse solution feeds the S&OP process and manages and monitors actions between planning cycles to help companies to stay on target with their S&OP plans and make decisions that align with corporate objectives."
Download a copy of the report.
Kinaxis has also recently participated in the AMR Research S&OP Technology Landscape Report and the Gartner MarketScope for Sales and Operations Planning.
About Kinaxis
Kinaxis™ RapidResponse is a single on-demand service that empowers multi-enterprise manufacturers with integrated demand-supply planning, monitoring, and collaborative response capabilities. RapidResponse embraces human judgment to enable planners and front-line responders to handle unpredictable changes. Global leaders such as Casio, Honeywell, Jabil, Qualcomm, and Raytheon use RapidResponse to achieve breakthroughs in sales and operations planning (S&OP), demand management, supply management, and supply chain risk management. The results are superior customer service, improved operations performance, and a competitive market advantage. For more information, visit the Kinaxis web site at http://www.kinaxis.com or the company's blog at blog.kinaxis.com.
###