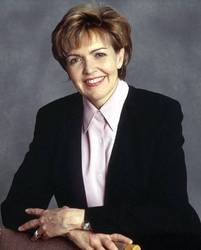 ... assisting clients with their post-recession, Great Comeback goals has been a very rewarding experience.
Raleigh, NC (Vocus) March 5, 2010
Valerie Bonebrake, Senior Vice President of Global Supply Chain Services at Tompkins Associates, has been named one of this year's "Provider Pros to Know in the Supply Chain Industry" by Supply & Demand Chain Executive magazine.
The award honors top industry executives for their exceptional leadership and knowledge in providing guidance to their clients. This year, the magazine emphasizes the recognition of executives who helped clients succeed and gain competitive advantage during the economic downturn of 2009.
Andrew K. Reese, editor of the magazine, notes that this year's recipients provide their clients with that extra edge needed to deliver value to the bottom line. "These executives serve as role models for other supply chain practitioners looking to bring their own organizations through these turbulent times," Reese says.
Bonebrake adds that assisting clients with their post-recession, Great Comeback goals has been a very rewarding experience. "Listening to clients to clearly understand their goals, developing the best strategy and implementing solutions, and following through with strategic leadership are all keys to success," she says.
With more than 25 years of industry experience in global logistics services, Bonebrake's expertise includes global business strategy development, mergers and acquisitions, distribution and transportation management, global trade, and logistics outsourcing.
Before joining Tompkins Associates, Bonebrake was the Executive Vice President of YRC Logistics. Previously, Bonebrake led Ryder's business unit to unprecedented global growth as Vice President of Electronics and High Tech. She holds a master's degree in International Logistics from the Georgia Institute of Technology.
About Tompkins Associates
Tompkins Associates transforms supply chains for profitable growth. For more than 35 years, Tompkins has evolved with the marketplace to become the leading provider of growth and business strategy, global supply chain services, distribution operations consulting, information technology implementation, material handling integration, and benchmarking and best practices. The company is known for innovative, practical solutions that improve supply chain performance and produce value-based results. Headquartered in Raleigh, NC, Tompkins has offices throughout North America and in Europe and Asia. For more information, visit http://www.tompkinsinc.com .
About Supply & Demand Chain Executive
Supply & Demand Chain Executive is the executive's user manual for successful supply and demand chain transformation, utilizing hard-hitting analysis, viewpoints and unbiased case studies to steer executives and supply management professionals through the complicated, yet critical, world of supply and demand chain enablement to gain competitive advantage. On the Web at http://www.SDCExec.com .
###