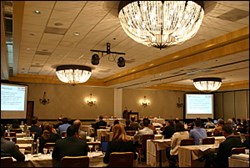 "...Not only did I appreciate the chance to speak...but I also learned a lot about supply chain challenges and some innovative ways that companies are working to tackle them." Megan Maltenfort, Sustainability Manager, VWR International, LLC
Calabasas, CA (PRWEB) January 29, 2014
Papers are being solicited for the annual conference of the Bio Supply Management Alliance (BSMA) to be held on October 23-24 in Foster City, California. BSMA is the world's leading community of biopharma supply chain management professionals. As a thought leader, network and make a difference in the efficacy of the biotech industry through your subject matter expertise and earn $695 complimentary registration for the two-day event. The conference will enable supply chain professionals engaged in clinical operations, commercialization, manufacturing, logistics, molecular diagnostics testing, information technology and government compliance to share, learn and advance the biotech industry. At the Annual Conference in October 2014, business leaders from over 90 companies attended and networked at the event.
The theme of the conference is "Biotech Manufacturer Supplier Collaboration: Reducing Cost, Lead Time & Defects."
Submit a 100-word synopsis of your presentation along with the speaker bio by June 1, 2014 to the contact given below. Acceptance of speakers, decided by a roster of eminent authorities in the field, will be finalized and notified by July 15, 2014.
Suggested subjects for consideration:

Strategic and Tactical Sourcing, Contract Research, Contract Manufacturing, Contract Clinical Operations
Information Transfer from R&D to Clinical Trials to Commercialization to Patient Care
Sales and Operations Planning
Innovations in Manufacturing
Quality Assurance End to End
Entering Emerging Markets
Big Data and Analytics, Cloud Computing, Mobile App, ERP and SAS Solutions
Distribution Management
Molecular Diagnostics Testing
Visibility in the Supply Chain
Risk Management
Temperature-controlled distribution (Cold Chain)
SCM Talent and Career Development
Compliance with Government Regulations
ABOUT BSMA
The Bio Supply Management Alliance, which organizes the Conference, was born of the need to create a worldwide community of operations and supply chain management leaders and professionals in the biopharma industry. The Alliance provides a forum for collaboration, learning and best practice sharing of practitioners, executives and thought leaders in the uniquely demanding industries.
Because life depends on usTM, the Bio Supply Management Alliance supports continuous learning and improvement of bio supply management professionals.