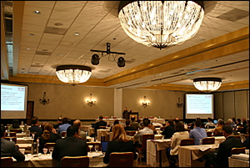 Calabasas, CA (PRWEB) February 28, 2014
The world's leading community of supply chain management professionals in the biopharma industry will come together on October 23-24 for the 7th annual conference of the Bio Supply Management Alliance (BSMA) in Foster City, California. The theme of the confluence is "Biotech Manufacturer Supplier Collaboration: Reducing Cost, Lead Time and Defects". The premiere conference of the biotech industry is organized to foster the mission of the Alliance of over 200 companies that untapped opportunities for industry profitability and growth lie in the links between the stakeholders can be enabled through collaboration.
The fundamental objective of the conference is to enhance the efficacy of the overall supply chain in terms of shorter lead time, lower inventory levels and increased yields while leveraging information and maximizing patient care. Devendra Mishra, Executive Director of the Bio Supply Management Alliance (BSMA), observed, "The mantra of supply chain management has begun to spread through R&D, strategic sourcing, clinical supply and operations, commercialization, manufacturing and logistics. The conference will focus on the evolution of the biotech industry from being a science to a business, driven by the symbiotic relationship between the drug manufacturers and their suppliers of raw materials and services. "
The two-day conference will have the Plenary Sessions on October 23, consisting of the challenges and solutions to advance the efficacy of the supply chain of the biopharma industry, and Multiple Tracks on the next day to address the critical areas of strategic sourcing and supplier relations, clinical supply, information technology, risk mitigation, cold chain, talent development, emerging markets and governmental compliance.
Eminent executives of the industry, pioneering academics, management consultants, recognized researchers and government representatives will focus on ensuring visibility from end to end, integrating best processes and technologies, and navigating regulatory requirements globally in order to maximize patient care.
LEADERSHIP FOR THE CONFERENCE
The SCM executives of the major biotech companies and thought leaders from academia serve on the Advisory Board of BSMA and shape the annual conference. The esteemed Advisors are Dave Malenfant, VP, Global Supply Chain, Alcon Laboratories; Rayne Waller, VP, Global Supply Chain, Amgen; Shankar Suryanarayanan, Executive Director, Baxter; Kevin Pegels, Vice President, Supply Chain, Bayer Healthcare – Biotech; Rob Tenerowicz, VP, Supply Chain Management, Bio-Marin Pharmaceuticals; Mark Buck, Global Supply Chain and Procurement Leader, Bio-Rad Laboratories; Mary Kachinsky, Sr. Director, Strategic Sourcing, Cubist Pharmaceuticals; Susanne Somerville, VP, Supply Chain, North America Region, Genentech-Roche; Paul Seaback, Head of Global Supply Chain, Gilead Sciences; Richard Dawe, Professor, Ageno School of Business, Golden Gate University; Paul Anderson, VP, Global Procurement, Life Technologies; Mahender Singh, Research Director, Center for Transportation & Logistics, Massachusetts Institute of Technology; Nancy Nix, Former Director, Executive MBA Program, Professor, Texas Christian University; and, Phil Kaminsky, Chairman, School of IE&OR, UC Berkeley.
FEEDBACK FROM ATTENDEES IN THE PAST
"The event was a rush of energy and quality"...Dr. Richard Dawe, Golden Gate University
"There is much work to be done in an ever decreasing time frame, and we are grateful for your interest, support and energy."...Giny Herold, Executive Officer, California Board of Pharmacy
"This year's event was very well organized – a lot of good material and many fine speakers / panelists."...David Wiggin, Program Director, Healthcare and Life Sciences, Teradata
"Not only did I appreciate the chance to speak about sustainability and how the industry is moving forward, but I also learned a lot about supply chain challenges and some innovative ways that companies are working to tackle them"...Megan Maltenfort, Sustainability Manager, VWR International
"I thought the conference was a great success addressing how the challenges of our biotech industry can be met."...Kevin Kevin Pegels, VP Global Supply Chain Management BayerHealthcare
"While the industry, the players and the regulatory agency(s)) are new to me, it is somewhat comforting to know that supply chain ..... is supply chain ..... is supply chain. No matter what the industry, the same types of issues and risk exist. And for that reason, there will always be a need for Supply Chain professionals!"...Michael Donahue, Strategic Supplier Management, MM Operations, EMD Millipore
WHO SHOULD JOIN BSMA?

Professionals responsible for supply chain, strategic sourcing, purchasing, forecasting
and planning, clinical supplies and operations, manufacturing, warehouse operations,
logistics and risk management in the biopharma and medical device industries.

Producers of healthcare products and service providers
Purchasers of those products – wholesalers, distributors and group purchasing groups
Network with supply chain management professionals in the biotech industry
Join Industry Steering Committees and Forums to discuss and solve your business
problems

Leverage technologies and services from reputed suppliers
Brand your enterprise in the biopharma industry
About BSMA
The Bio Supply Management Alliance, which organizes the Conference, was born of the need to create a worldwide community of operations and supply chain management professionals in the biotech industry. Because life depends on usTM, the Bio Supply Management Alliance supports continuous learning and improvement of bio supply management professionals.
For more information visit http://www.biosupplyalliance.com.