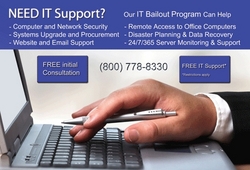 San Francisco, CA (PRWEB) February 13, 2009
In light of the increasing economic pressure on small businesses in the San Francisco Bay Area, Bay Area Systems is presenting professional and cost-effective Information Technology support solutions to help San Francisco Bay Area small business owners. Our bailout plan is designed to provide critical information technology supports in the areas of office computer server and workstation maintenance, network architecture, infrastructure as well as network security, data security, data backup and protection to help small businesses in the San Francisco Bay Area during these trying times, and better prepare themselves for the eventual turnaround, and propel their businesses forward. This is Bay Area Systems' version of an economic bailout plan for small business owners facing challenges in the current economic condition.
Bay Area Systems IT Bailout Plan include free six-hours of professional IT support for servers, networks or workstations for small businesses in need. The six free support hours can be used in the following two options: two hours of free support per month for three months, or one hour of free support per month for six months. Offer is for labor only, and excludes any software, license, and hardware.
Bay Area Systems is offering IT Bailout Plan to all new customers within our support area absolutely no obligation, no contract, and there is no catch! Simply sign up by April 30, 2009 and you can start enjoying six hours of professional IT support absolutely free. These free consulting hours can be used for IT system assessment; troubleshooting performance issues; Microsoft Exchange email servers, file servers; maintenance on Cisco network firewall, routers; develop a data backup solution; workstation maintenance; or anti-virus and anti-spyware solutions.
After the free trial period, Bay Area Systems will be happy to provide continuing Information Technology support at our regular hourly rate, or through customized FlexSupport plans with discounted rates.
Bay Area Systems believe in keeping the engine warm and well-maintained, and that means the key information technology that is crucial to today's small business owners must be able to hit the ground running at all times. IT Bailout Plan is designed to offer help to small businesses in need, and get them ready for more happy customers and profit when the economy rebounds.
# # #