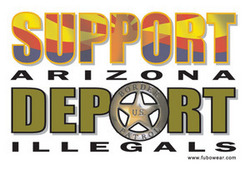 "This project is about having a site where people can be made aware of the problem, and give them an opportunity to take action"
Rochester, NY (PRWEB) July 12, 2010
(PRWEB) July 12, 2010 -- At the Arizona Shirt Fund, visitors can purchase a 100% cotton USA made t-shirt which sports a full color print and the words "Support Arizona, Deport Illegals". The t-shirt sells for $16.95 and the company says it will donate at least $5 to the Arizona Defense Fund, for every shirt purchased through this project. At the website, located at arizonashirtfund.com, people can also donate directly to the Arizona Defense Fund, without buying the t-shirt.
Launched on Friday July 9, 2010 the Arizona Shirt Fund also calls on people write their congressperson and even provides a link to a site where they can enter their zip code and find out who their representative is, complete with contact information. "More news about the Justice Department's lawsuit challenging Arizona's anti-illegal immigration law will be added to the site in the coming days," says Todd Walbridge, owner of FUBOwear, the Rochester based conservative web store where the t-shirts are printed and sold from. "This project is about having a site where people can be made aware of the problem, and give them an opportunity to take action," continues Walbridge.
If you choose to buy a shirt from the Arizona Shirt Fund, you'll click on a Buy Now Button and be led to the conservative web store FUBOwear.com, to complete your transaction. FUBOwear is the brainchild of local conservative radio talk show host Bob Lonsberry, who was excited to get this project rolling. "We wanted to do something that would be fun, make a point and help a cause we believed in," says Lonsberry. He also went on to say, "I met with three people from the shirt company on Friday, we collaborated on the image for an hour or so, and later that night we launched the new website for this project." He talked about it on his radio show on Saturday, and the company reported immediate traffic and sales, which seems to illustrate the high level of support which Arizona is receiving from people all over the country.
The Arizona Shirt Fund says that using a USA made t-shirt for this project made the cost basis higher, but there was never a doubt that a USA made t-shirt was the only shirt they would consider for this project. "We are sending a few messages here, and one of them is that we should always try to purchase USA made products which is a great way to support American workers, who are hurt by the flood of illegal immigration," says Lonsberry.
The company says it will be making additional donations to the Defense Fund, if sales are good and when some of the overhead and advertising costs are recovered, but they say either way, $5 off the top of each sale will go to the fund.
Arizona Shirt Fund is a project of NY-Based FUBOwear.com, a company that believes in conservative values, and sells products which support those values. The mission of Arizona Shirt Fund is to bring awareness to the massive problems which are brought on the state of Arizona and all of the United States from an estimated 11 million undocumented illegal immigrants. Violent crime, lack of jobs and a heavy burden upon our health care system are just a few of the problems associated with illegal immigration. Arizona's attempt to fight this problem is being challenged by the Justice Department among others, and we are here to support Arizona, both morally and financially.
###